Avotab Disinfectant 消毒杀菌药片 30 Tablets 200 Tablets of 1.25g / Sanitizer / Pembasmi Kuman / Sanitasi / Disinfeksi
Price

RM28.00 - RM95.00

Brand
AVOTAB
Points Needed

2800

Availability
In Stock

Type

Quantity
Description
Highlight
Kills 99.999% of germs
No skin irritation
No harmful residue
No PPE(gloves) needed during application
Disinfect with your own way- Mop, soak, rinse, spray
Clean, Sanitize, Disinfect, and Deodorize in ONE STEP
Effervescent, ready to use in few minutes
No Rinse Required, even on food contact surfaces
Safe for daily use
Product Description:
-Traditional cleaning and spot disinfection can no longer meet the challenge of protecting against today's infectious diseases. Cleaning alone may increase the risk of spreading pathogens throughout an environment.
-Keep your living space safe, disinfect with AVOTAB™
-AVOTAB™ is a high performance tablet, which dissolves rapidly in water to become a powerful disinfectant in the form of Hypochlorous Acid (HOCL) that is versatile, to use as a food surface sanitizer or a hospital grade disinfectant. (depending on concentration)
-The active ingredient which is recommended by WHO, CDC, NHS, UNICEF & EPA to fight Ebola virus, Coronavirus, SARS, MERS, HIV.
-Despite causing corrosion like any other high level disinfectant, AVOTAB™ on the other hand has a nearly neutral pH of 5.5 – 7.0 when dissolved in water making it not harmful to surface and skin.
-Let's find out more about why AVOTAB™ can be your ideal disinfectant to your home!
√ Kills 99.999% of germs
√ No skin irritation
√ No harmful residue
√ No PPE(gloves) needed during application
√ Disinfect with your own way- Mop, soak, rinse, spray
√ Clean, Sanitize, Disinfect, and Deodorize in ONE STEP
√ Effervescent, ready to use in few minutes
√ No Rinse Required, even on food contact surfaces
√ Safe for daily use
Adeno virus 3,7,7a,8 & 12
Aujesky's virus
Bovine Viral Diarrhoea virus (BVD)
Corona virus
Coxsackie A2 (Purified)
Creutzfeldt-Jakob Disease virus
Distemper virus
Echovirus
Equine Herpes virus (1 & 4)
Equine Influenza virus
Foot & Mouth Disease virus
Hardpad virus
Hepatitis A virus
Hepatitis B virus
Infectious hepatitis virus
Herpes Simplex virus 1
Human Rotavirus
Human Immunodeficiency virus (HIV)
HIV + 10% plasma HIV in contaminated blood
Newcastle Disease virus
Parvovirus
Poliovirus 1, 2 & 3
Reovirus 1,2 & 3
Respiratory Syncytial virus (RSV)
Rotavirus
Simian Rotavirus SA11 (Purified)
Theiler's virus (Purified)
Bacillus anthracis spores
Bacillus cereus spores
Bacillus globigii spores
Bacillus subtilis spores
Clostridium bifermentans spores
Clostridium butyricum spores
Clostridium histolyticum spores
Clostridium histolyticum spores 503 Clostridium
Sporogenes spores
Clostridium tetani spores
Tubercule bacilli spores
Aspergillus fumigatus
Aspergillus niger
Candida albicans
Cryptococcus sp
Fusarium sp
Microsporum sp
Mucor sp Penicillium sp
Saccharomyces sp
Trichophyton sp
Actinobacillus sp.
Actinomyces pyogenes
Bacillus anthracis
Brucella abortus
Clostridium butyricum
Clostridium sp.
Corynebacterium sp.
Enterobacter cloacae
Enterobacter sp.
Eschericia coli
Escheria coli 0157-H
Erysipelothrix sp
Klebsiella sp.
Legionella pneumophilia
Leptospira sp.
Listeria monocytogenes
Mycobacterium paratuberculosis
Mycobacterium smegmatis
Mycobacterium sp.
Mycobacterium terrae 232
MycobacteriumTuberculosis ATCC25618
Mycoplasma mycoides
Mycoplasma sp.
Norcardia sp.
Pasteurella sp.
Proteus vulgaris
Pseudomonas aeruginosa NCTC6749
Pseudomonas aeureus
Pseudomonas fluorescens IM
Rhodococcus equi.
Salmonella dysenteriae
Salmonella typhimurium
Salmonella typhimurium phage type 104
Salmonella typhosa
Shigella sonnei
Staphylococcus agalactiae
Staphylococcus aureus
Methicillin Resistant Staphylococcus aureus
Staphylococcus uberis
Start your disinfecting mission today with AVOTAB™
How to use:
-1 tablet 1.25g to 5 litres of water- (General surface). Suitable for Mop, soak, rinse, spray.
-Disinfect high touch surface: Floor, doorknobs, countertops, light switches.(Always allow a minimum of 1 min contact time or air dry to complete the disinfection process).
速溶爱窝消毒泡腾片 (1.25g)
一罐30粒/200粒
一粒 = 5 litter 水
高效消灭99.99% 细菌
安全使用不伤手
用途:
家居清洁日常杀菌
侵泡衣物
消毒液
餐厅
诊所
办公室
汽车
儿童用品
宠物用品
⚠️远离孩童
⚠️不可食用
⚠️不可侵泡衣物超过1个小时,建议15-20分钟就好
⚠️宝宝玩具消毒后需要用清水再清洗一遍
⚠️建议24小时内使用完毕
静待5分钟速溶片溶解完,倒入喷雾瓶或自动红外线消毒机即可进行消毒 ~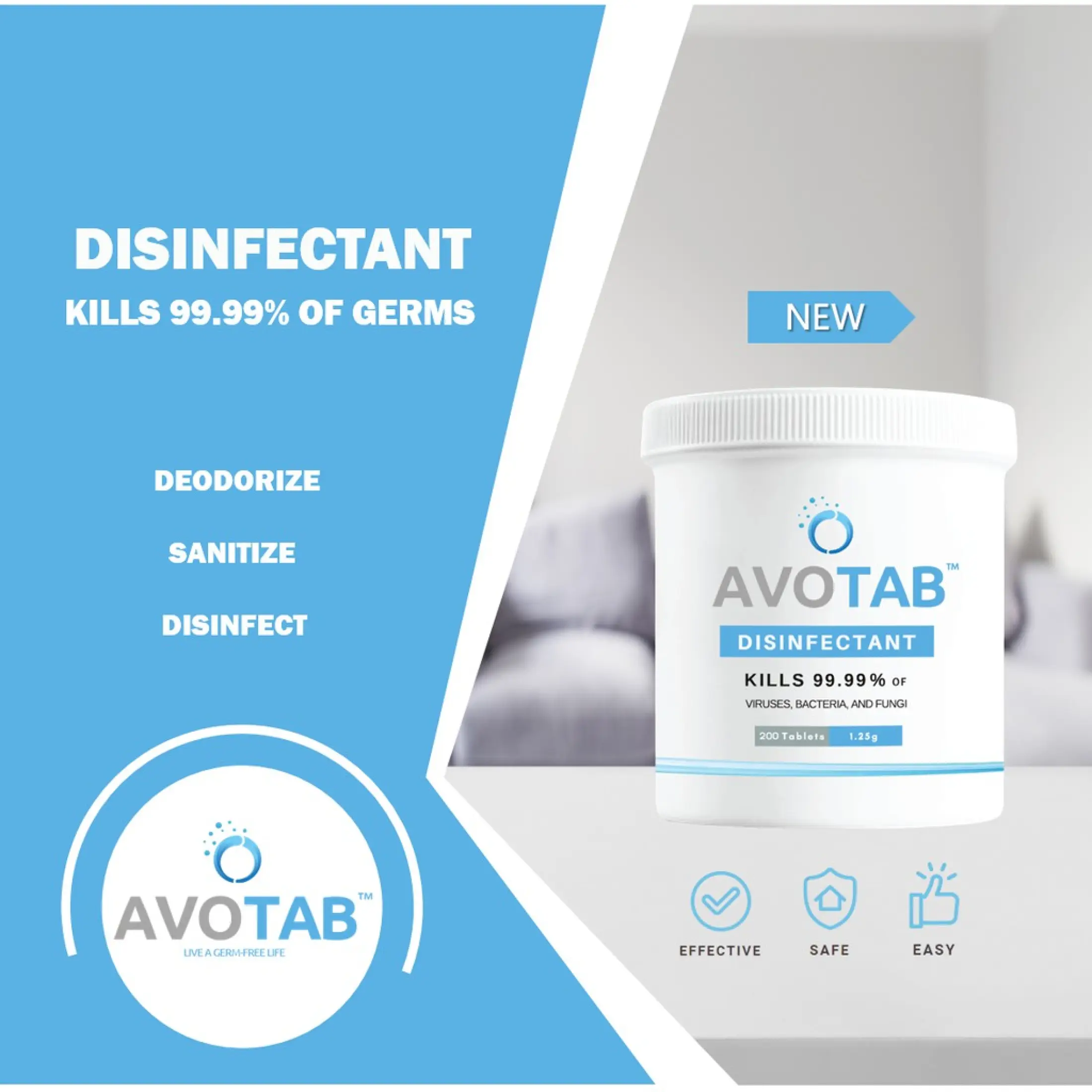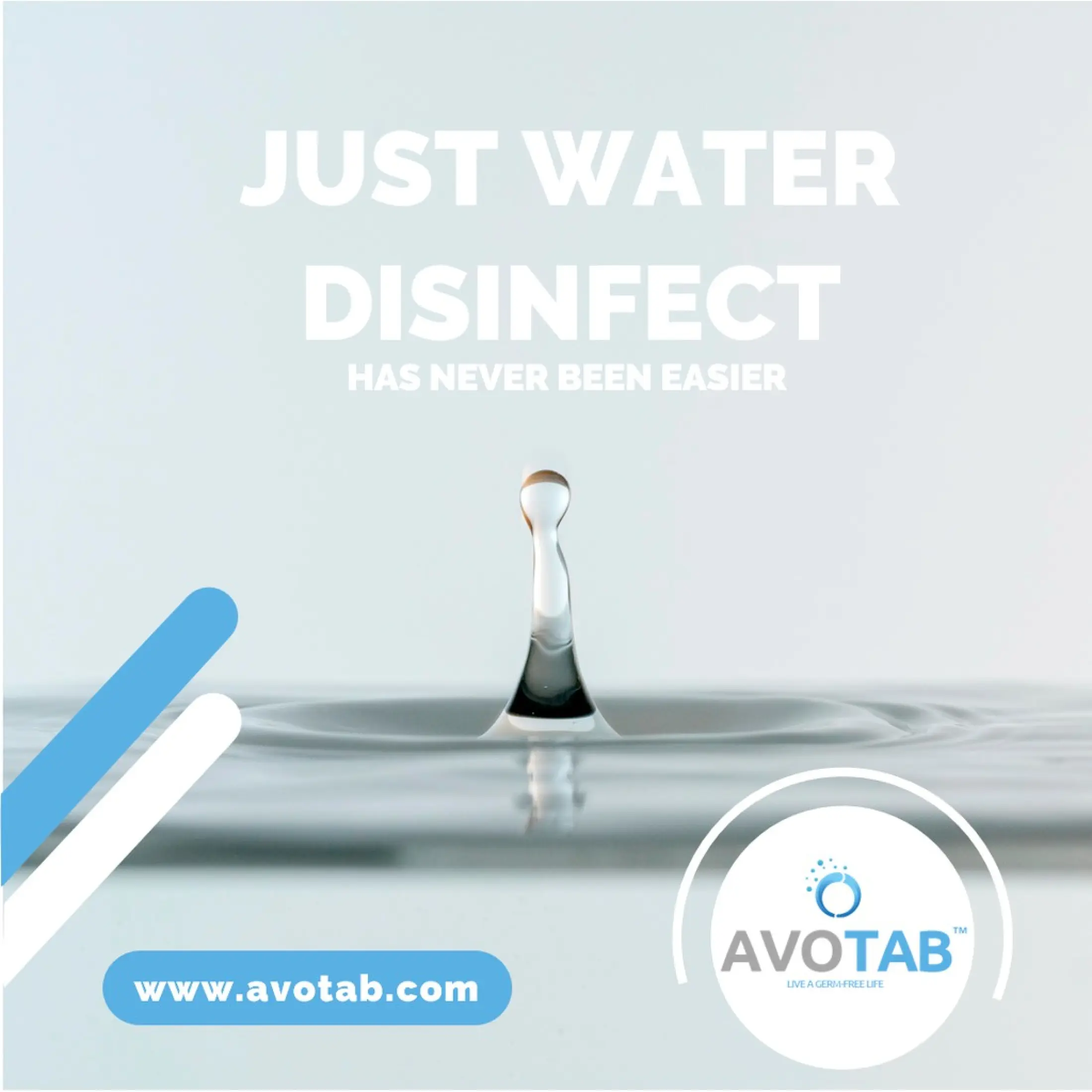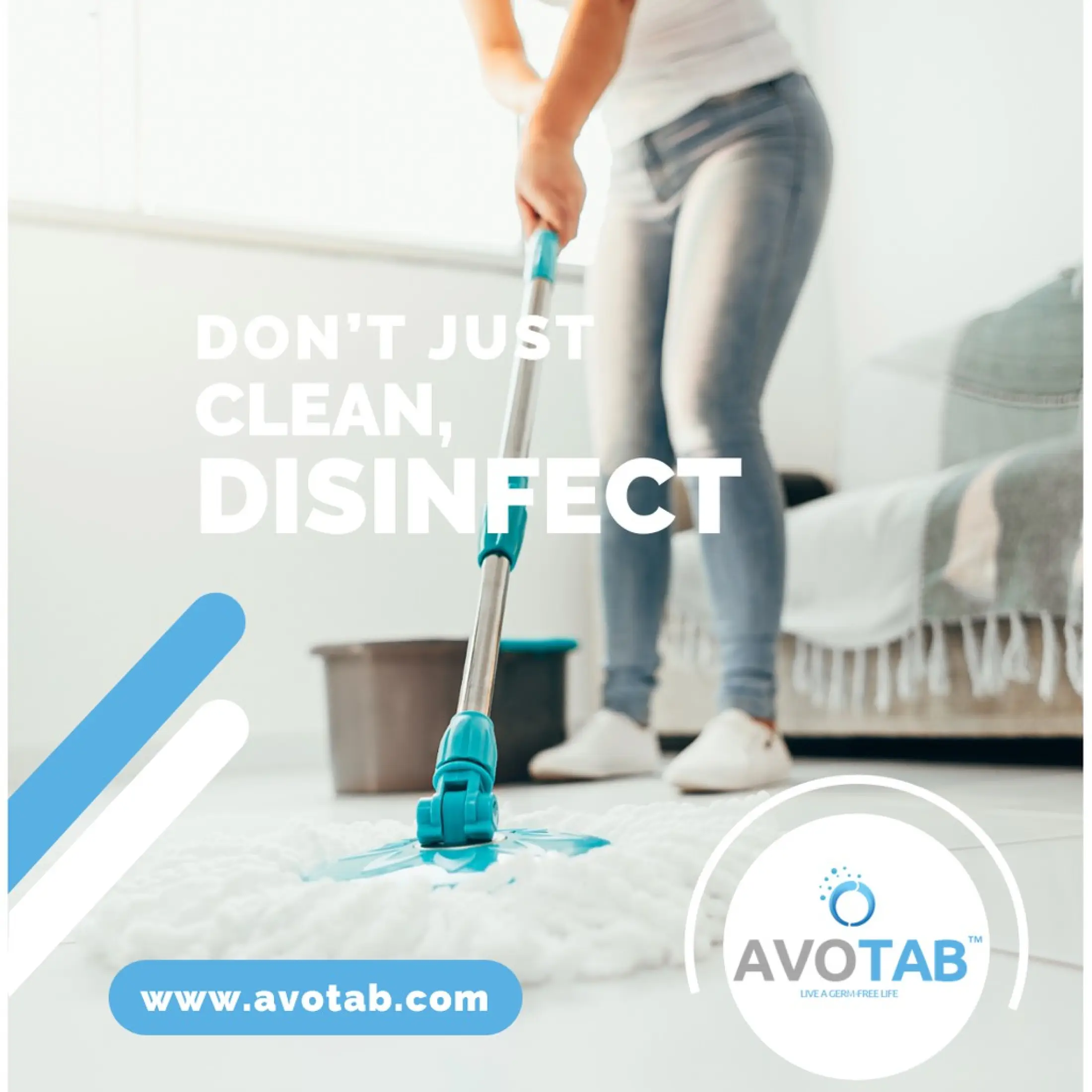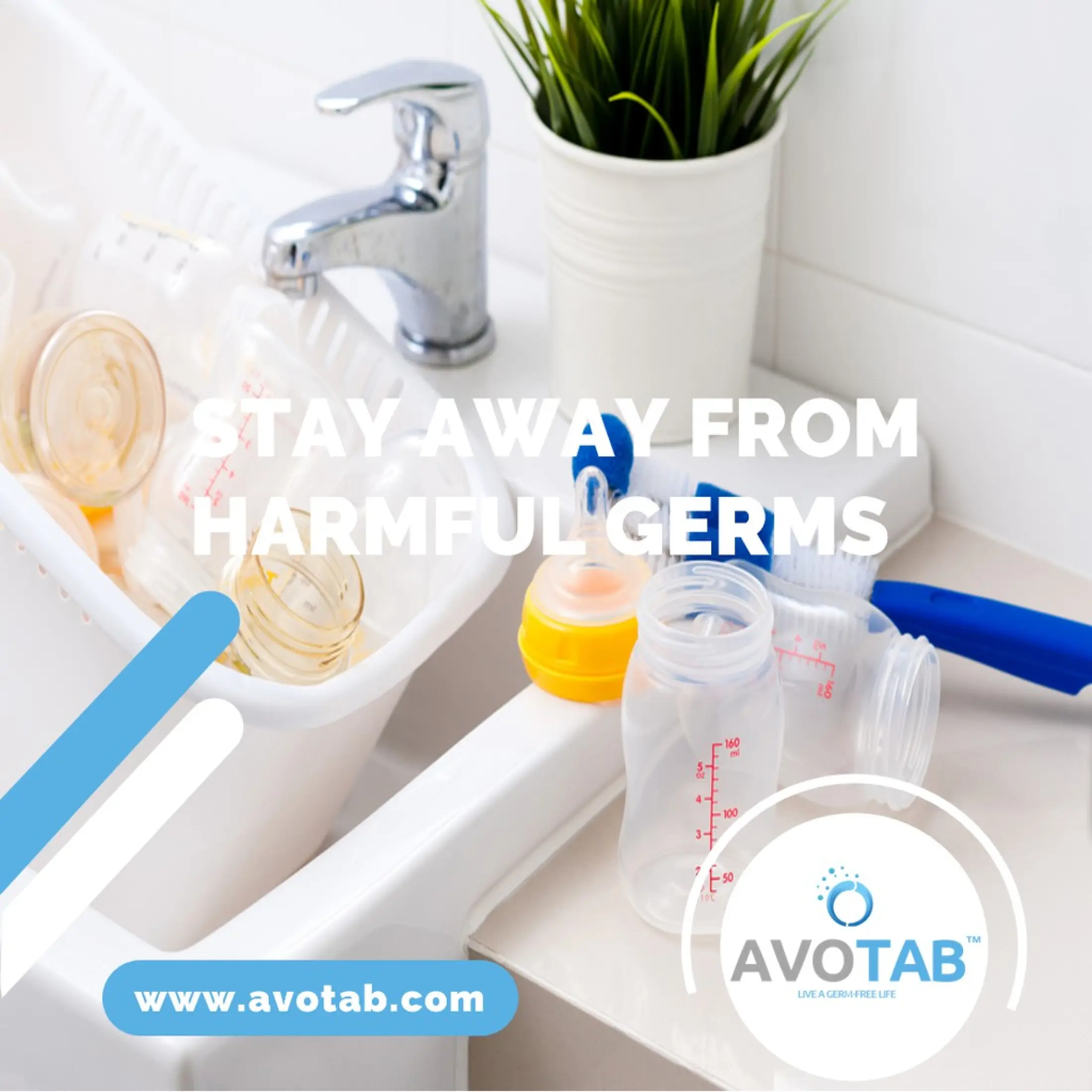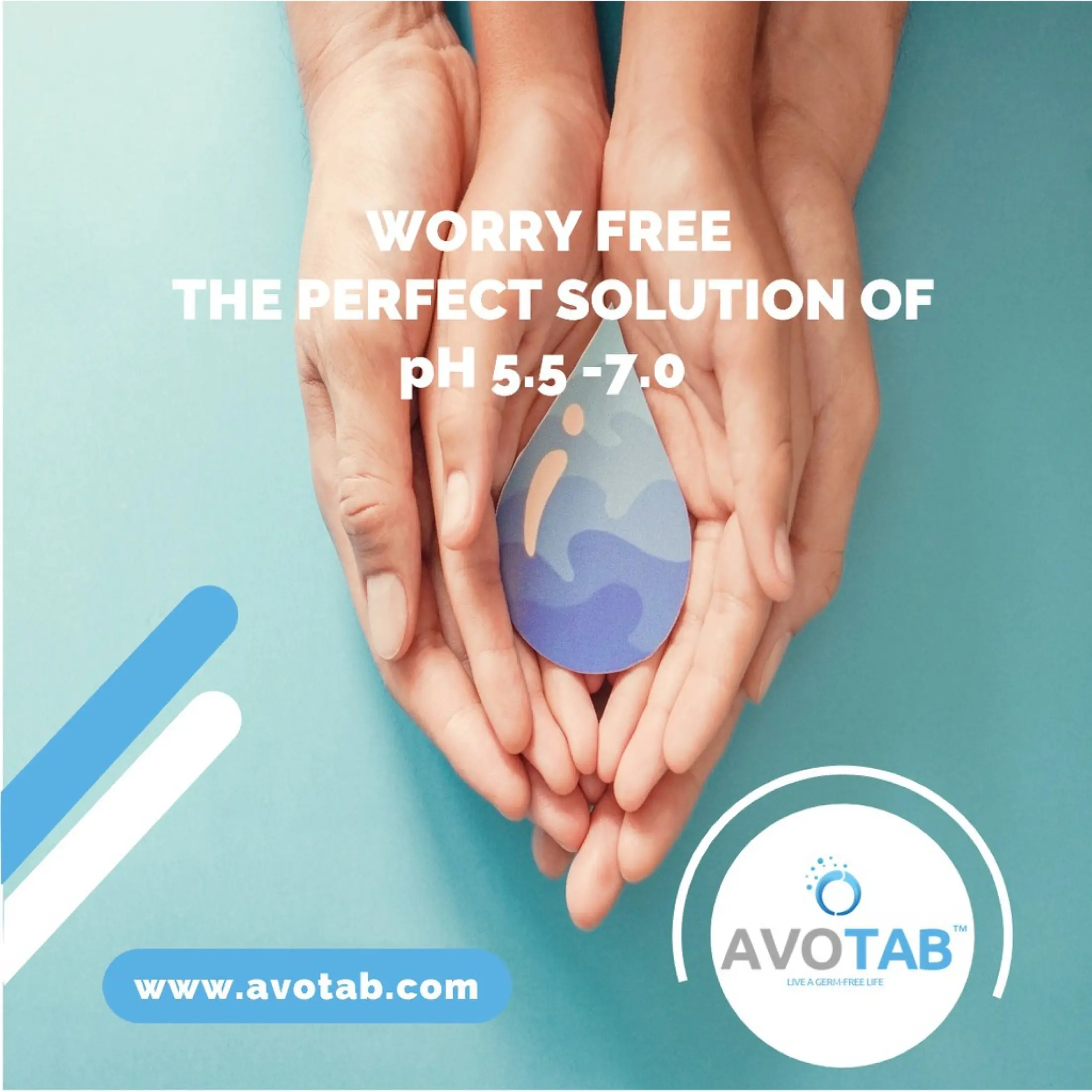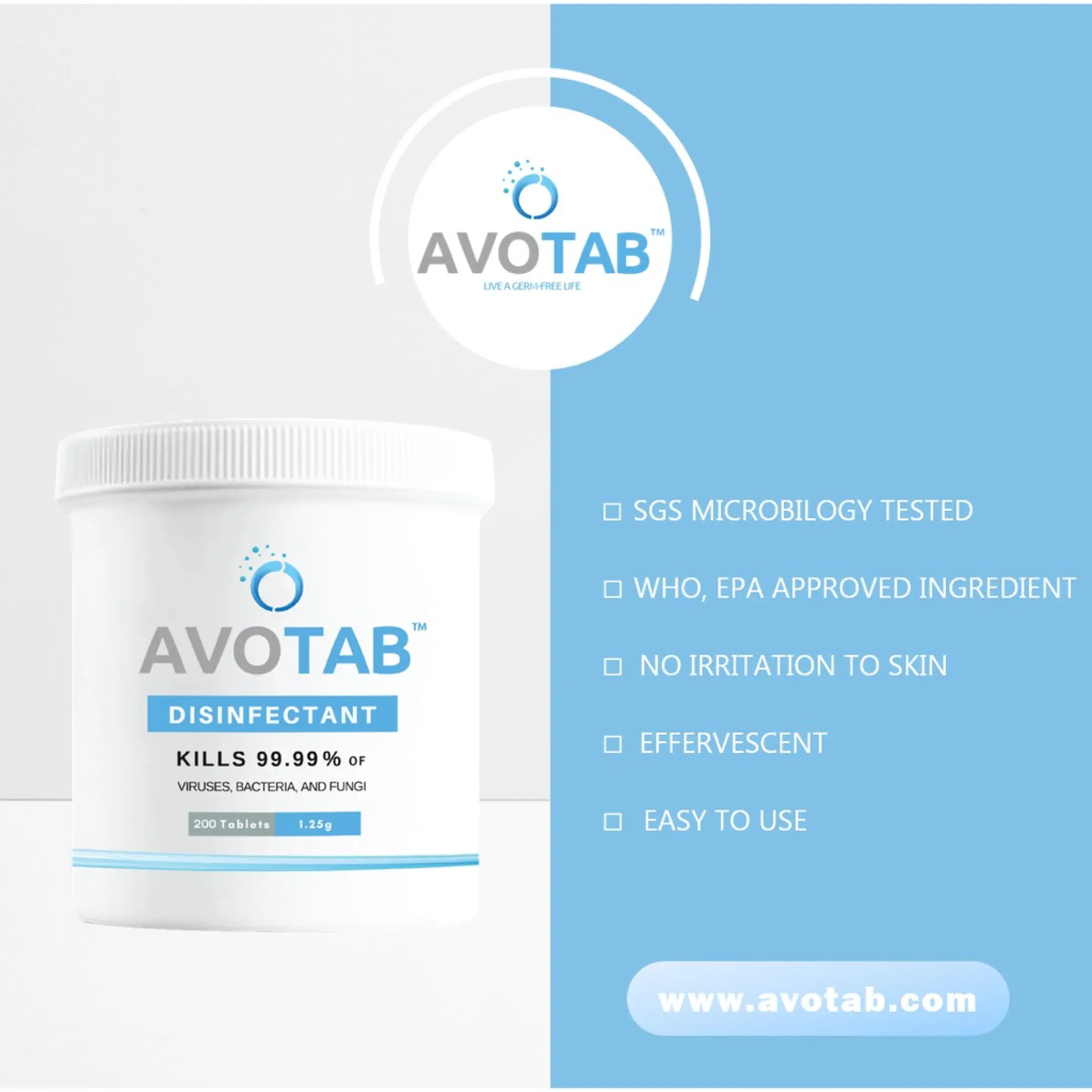 Reviews (0)
view all
back
What's in the box
1 x AVOTAB Disinfectant (1cans=30tablets) or (1cans=200tablets) or (1bottle=5L)