Medicurve 4PLY Disposable Protective Surgical Medical Face Mask成人医用口罩防护防病菌薄款透气 BFE≥99% PFE≥98% Latex Free / Fluid Resistant / High Breathability (ASTM Level III)
Price

RM35.00

Brand
Medicurve
Points Needed

3500

Availability
In Stock
Quantity
Description
Highlight
Latex Free
Fluid Resistant
High Breathability
Safety & Protective
Signature Premium Soft
Product Description:
Medicurve Disposable Protective 4Ply Surgical Face Mask - Adult/ ASTM Level III/ Type IIR/ PM0.1/ BFE>99%
**100% genuine
**We are manufacturer
**Medical Device Authority
**MDA -1338-K120**
**Adult-embossed logo**
**NEW PRODUCT**
1) Origin: Malaysia
2) Manufacturing Standards: ASTM F2100-LEVEL III / EN 14683:2019-TYPE IIR / ISO 13485:2016/ CE/ MDA -1338-K120
3) Type: 4ply Earlobe
4) Product Validity: 5 years
5) Product Size: Adult - 175mm (+-3mm) x 95mm (+-3mm)
6) Packaging: 40pcs/box
7) Product Standard:
*Particulate Matter (PM) Rating: PM 0.1
*Bacterial Filtration Efficiency (BFE): ≥99%
*Particle Filtration Efficiency (PFE): ≥98% @ ,0.1 micron
*Fluid Resistance (FR): 160mmHg
*Breathability - Delta P: <3.0mmH2O/cm2
*Welcome to MEDICURVE.
Medicurve manufactures superior single-use protective equipment (PPEs) and our products are made with the finest material in the world to ensure that we provide optimum level of performance in protection, breathability and comforts to the wearers.
*WHY MEDICURVE ?
Our popularity and recognition, just ask our partners. Medicurve supplies millions of quality face masks internationally. Our products assure that factories continue to meet standards of operation. Medicurve supplies to big brand pharmacies and personal care franchises. Our face masks are also trusted amongst kindergartens and medical professionals alike. Only the highest standards of material, production, and product. Most importantly Medicurve face masks protect you.
Medicurve一次性四层医用外科口罩 - 成人/ASTM Level III/TYPE IIR/PM0.1/BFE>99%
**100%正品**我们是制造商**医疗器械管理局认证**MDA -1338-K120**
**成人- 钢印logo**
**新产品**
1) 产地:马来西亚
2) 制造标准:ASTM F2100-LEVEL III/ EN 14683:2019-TYPE IIR/ ISO 13485:2016/ CE/ MDA -1338-K120
3) 类型:4层耳挂式
4) 产品有效期:5年
5) 产品尺寸:成人 - 175mm(+-3mm)x 95mm(+-3mm)
6) 包装:40片/盒
7) 产品标准:
* 颗粒物(PM)等级:PM 0.1
* 细菌过滤效率(BFE):≥99%
* 颗粒过滤效率(PFE):≥98%@,0.1微米
* 流体阻力(FR):160mmHg
* 透气性-压差:<3.0mmH2O/cm2
*欢迎来到MEDICURVE。
Medicurve生产高级一次性防护设备(PPE),我们的产品采用世界上最好的材料制成,以确保我们为佩戴者提供最佳的防护、透气性和舒适性。
*为什么选择MEDICURVE?
我们的知名度和认可度,只要问问我们的合作伙伴。Medicurve在国际上供应数百万优质口罩。我们的产品保证工厂继续达到操作标准。Medicurve供应给大品牌药店和个人护理特许经营店。我们的口罩在幼儿园和医学专业人士中也很受信任。只有材料、生产和产品的最高标准。最重要的是Medicurve面罩保护你。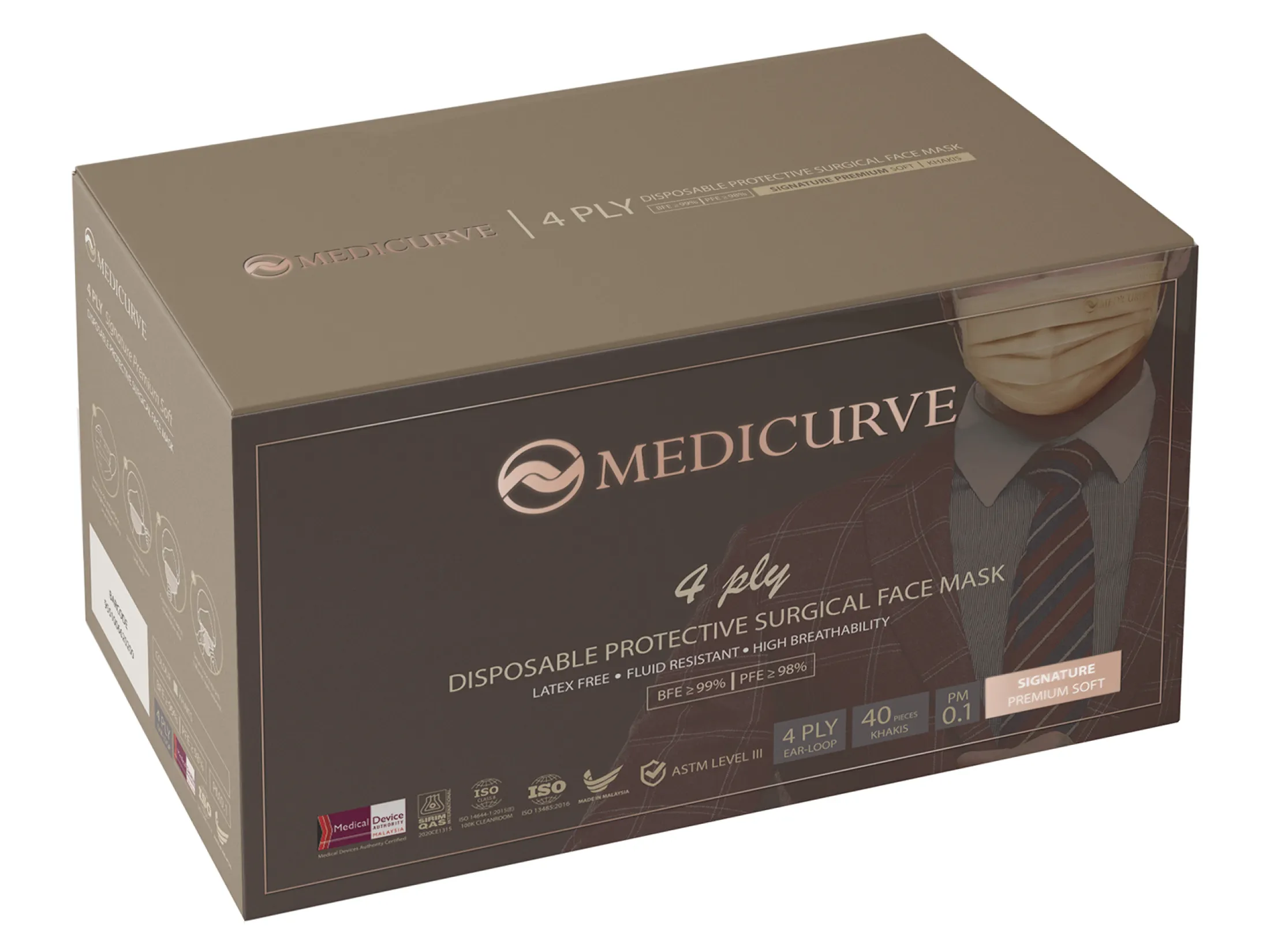 Reviews (0)
view all
back
What's in the box
1 box x Medicurve 4 PLY Medical Face Mask (40pcs)