Xiaomi Mijia Smart Handheld Wireless Vacuum Cleaner 米家手提无线吸尘机1C Household Small Large Suction Car Mites Instrument Cleaner Type Strong Suction 20kPa LED Display Lightweight Vacuum
Price

RM859.00

Brand
Xiaomi
Points Needed

85900

Availability
In Stock
Quantity
Description
Highlight
120AW suction power
60min long battery life
Wall-mounted charging stand
Multi-cone cyclone filtration
10W turn brushless motor
20KPa Vacuum degree
99.97% Filtration efficiency
99% deprivation rate
Product Description:
Brand Name: Xiaomi
Certification: ce
Origin: CN(Origin)
Power (W): 400w
Voltage (V): 25.2V
Function: Dry
Dust Box Capacity (L): <0.5 L
Dust Storage Type: Dust Box
Installation: Vertical/Hand Held
Timing Reservation: No
LCD: No
Size(mm): 1208*256*204.5mm
Remote Control: No
Special Suction Nozzle: Multifunctional Combined Brush
Filter Type: HEPA
Model Number: Mijia Handheld Vacuum Cleaner 1C
Cord Length (m): wireless
Cleaning Route: Random Type
Battery Capacity: 2500mAh(typ)/2400mAh(Min)
Wind Pressure: 20000 PA
Product Weight: About 3.5kg
Electric anti-mite brush: Yes
Mijia Handheld Wireless Vacuum Cleaner 1C
Suction battery life is strong, clean little monster
120AW* suction power 60min* long battery life Wall-mounted charging stand Multi-cone cyclone filtration


Large suction, long battery life
Brings the ultimate dust removal experience

10W turn * brushless motor 20KPa* vacuum 120AW suction power
60min long battery life 99.97%* filtration efficiency 99%* mitigation rate



High performance motor wins at the starting line
120AW large suction lightning dust removal

The Mijia 1C vacuum cleaner is equipped with a 10W rpm high-speed brushless motor with a suction power of up to 120AW. It has a powerful suction of 20KPa and effectively absorbs all kinds of ground.

10w turn brushless motor 120 AW suction power 20KPa vacuum


Drive system air cooling technology
Non-destructive suction, more stable cleaning performance

The special air guiding channel design guides the strong wind pressure to the power group instantaneously, dissipates the working heat of the core components, and maintains the suction constant for a constant power*.


Multi-cone cyclone separation system
Make the big suction last longer

Equipped with a high-efficiency multi-cone filter system, it can effectively remove large particles into the bottom of the dust cup to achieve dust separation and keep the air passage from clogging.

Efficient separation Not easy to block the filter Long lasting suction



5-fold fine filtration system
Clean from start to finish

The whole machine adopts 5-fold fine filtration system, which can accurately intercept particles as small as 0.3μm*, and the purification efficiency is up to 99.97%, avoiding secondary pollution.

H12 grade HEPA filtration
high-density sponge
Multi-cone cyclone separation
First-order cyclone filtration
Metal mesh filtration



60min long battery life
Leading the new miles of wireless vacuum cleaners

The Mijia 1C vacuum cleaner is equipped with a powerful power system that can continuously provide 60 minutes of running time and easily respond to large units.




Large diameter suction brush
Care for the floor, strong suction and dirt removal

Built-in independent motor, driving super-fiber brush to run at high speed, while cleaning the floor, it can easily remove floor dirt and significantly improve cleaning efficiency.



Baby family essential deflation function
Deep removal of 99% aphids

Equipped with a high-speed squeegee brush, the powerful power can penetrate deep into the mattress and effectively absorb 99% of the dust mites on the bedding, sofa and fabric seats.



More equipped with a variety of brush heads
Meet different cleaning needs

Fabric cleaning: 2-in-1 brush
Sofa, keyboard, compartment surface dust

Gap cleaning: two in one flat suction
Remove dust from narrow corners of furniture



Clean up every corner with your heart

Soft velvet roller brush
Two-in-one brush
Two-in-one flat suction
Electric brush (Mite removal brush)



Built-in wall mount
Integrated design, convenient and more practical

The built-in wall-mounted charging pylon of the vacuum cleaner can be used for charging and accommodating two-in-one. It can use the space reasonably and effectively. It can be used with the suction, and it can be fully charged with only 3.5h.


Multi-brush head storage
Not only neat, but also saves space


Rotary design
More convenient to use, more convenient


Comfortable design, clean and not tiring
Short torque, easy to operate with one hand
The main unit puts the motor and battery behind the handle, and the torque is shortened. Even if it is lifted up, it can easily maintain the balance of gravity and comfortably clean the high place.


One-click dust
No need to touch dirt


Easy to disassemble
Free design of buckle design


Filter can be washed
Reuse less loss

Packing List:
Main body *1
Extension rod*1
Soft rolling brush*1
Mite removal brush*1
Two-in-one brush *1
Two-in-one flat suction *1
Two-in-one stand (charging + storage) *1
Power adapter*1
Manual *1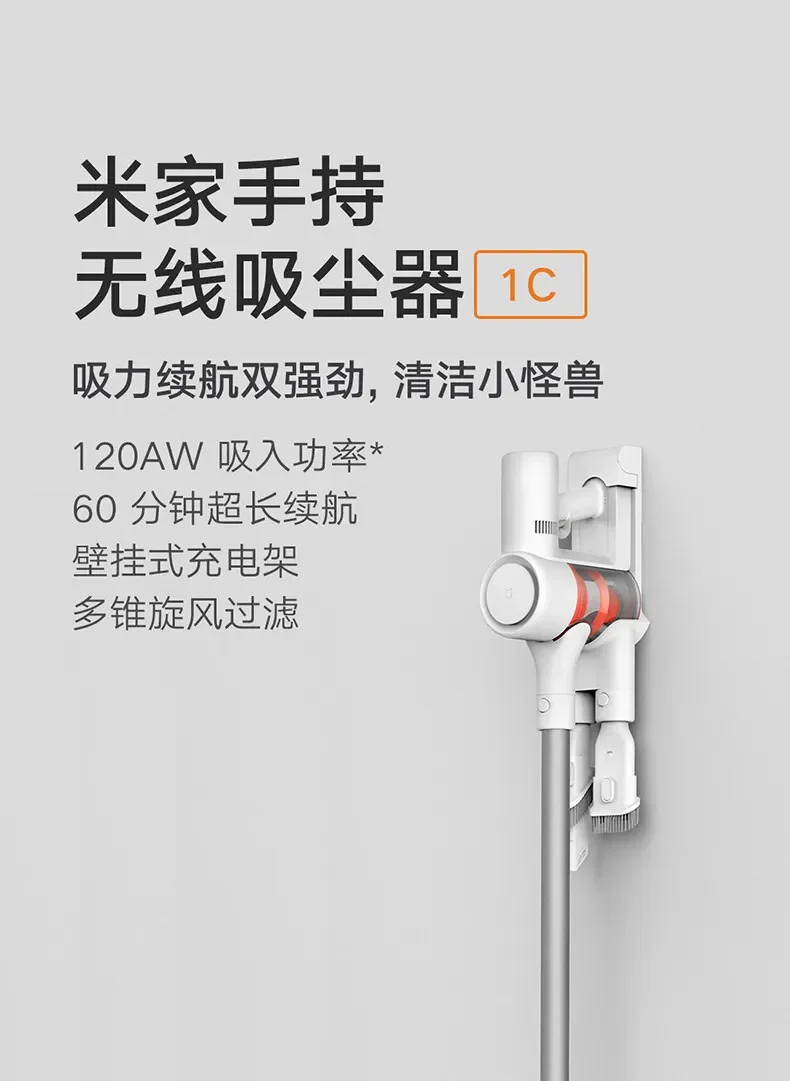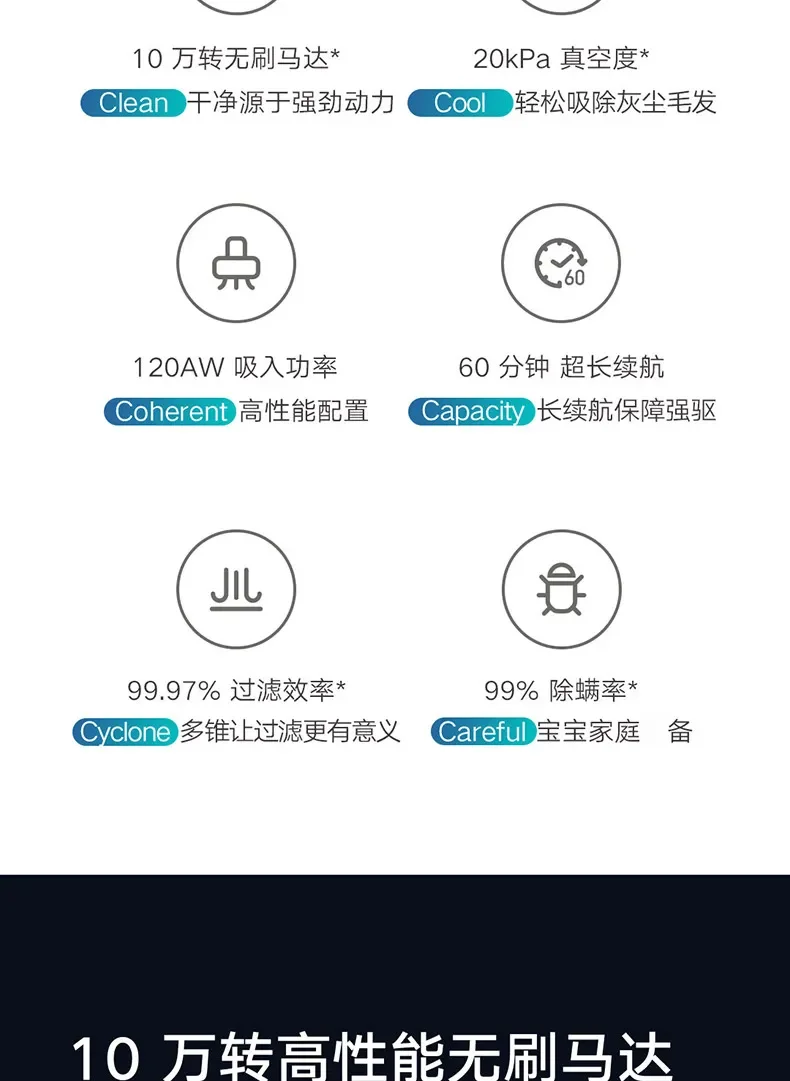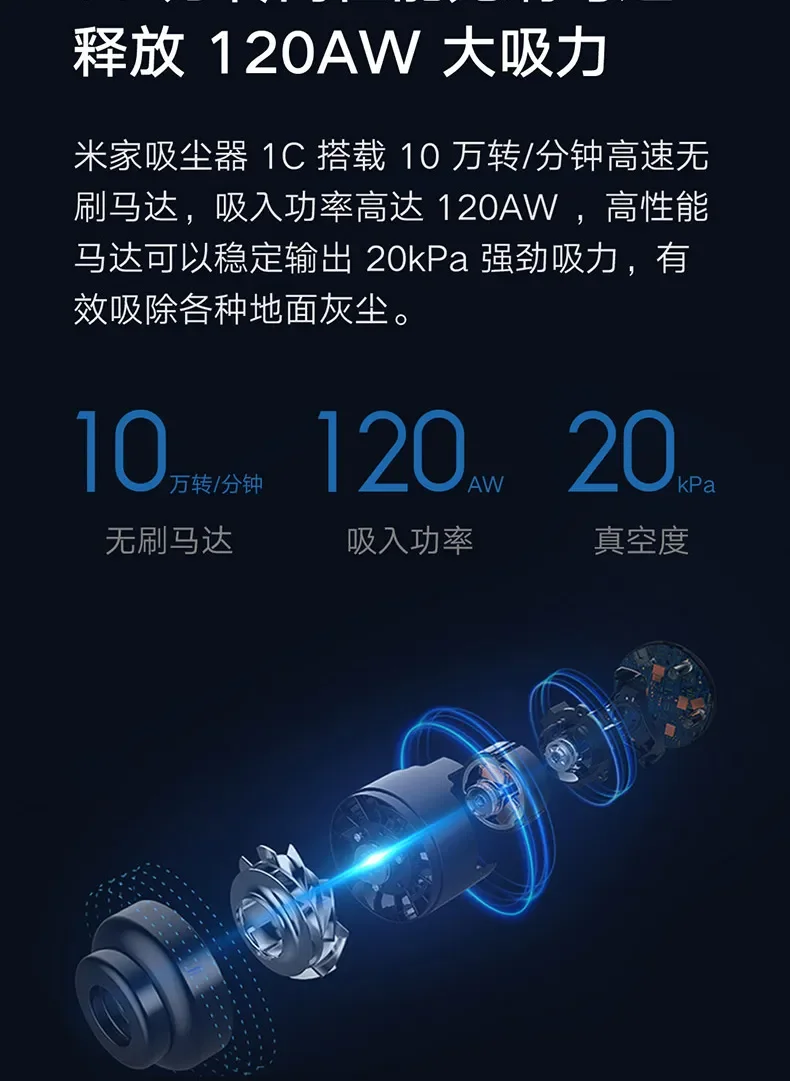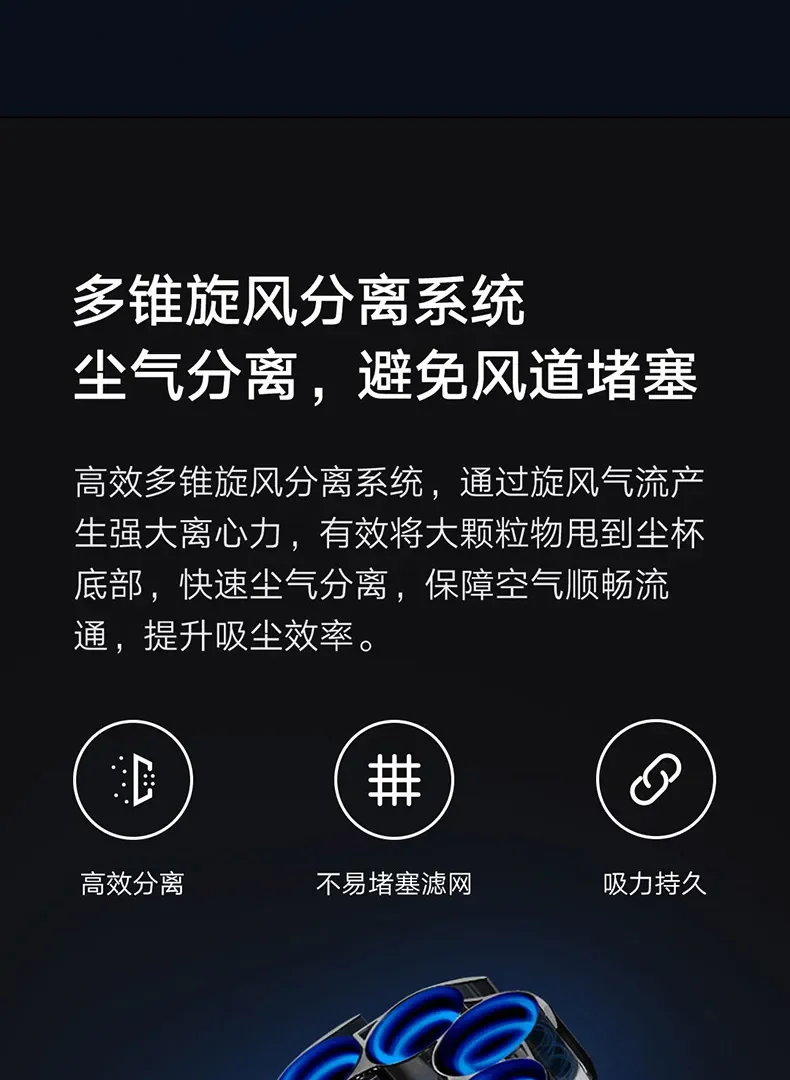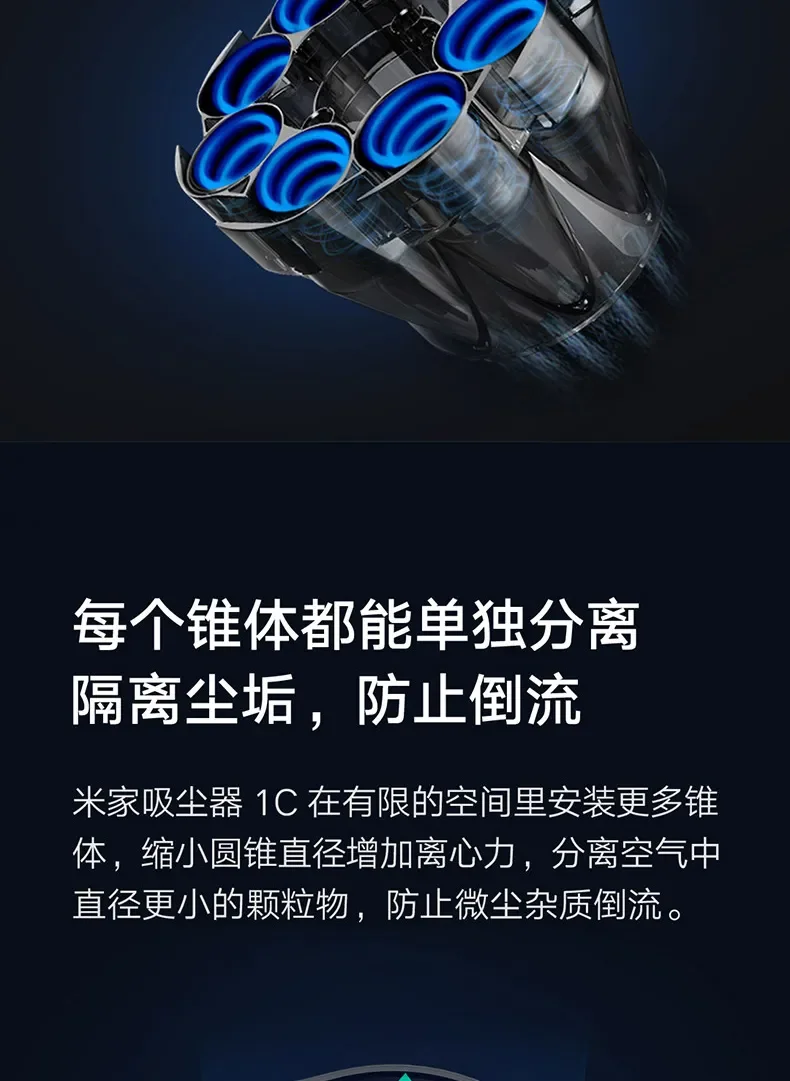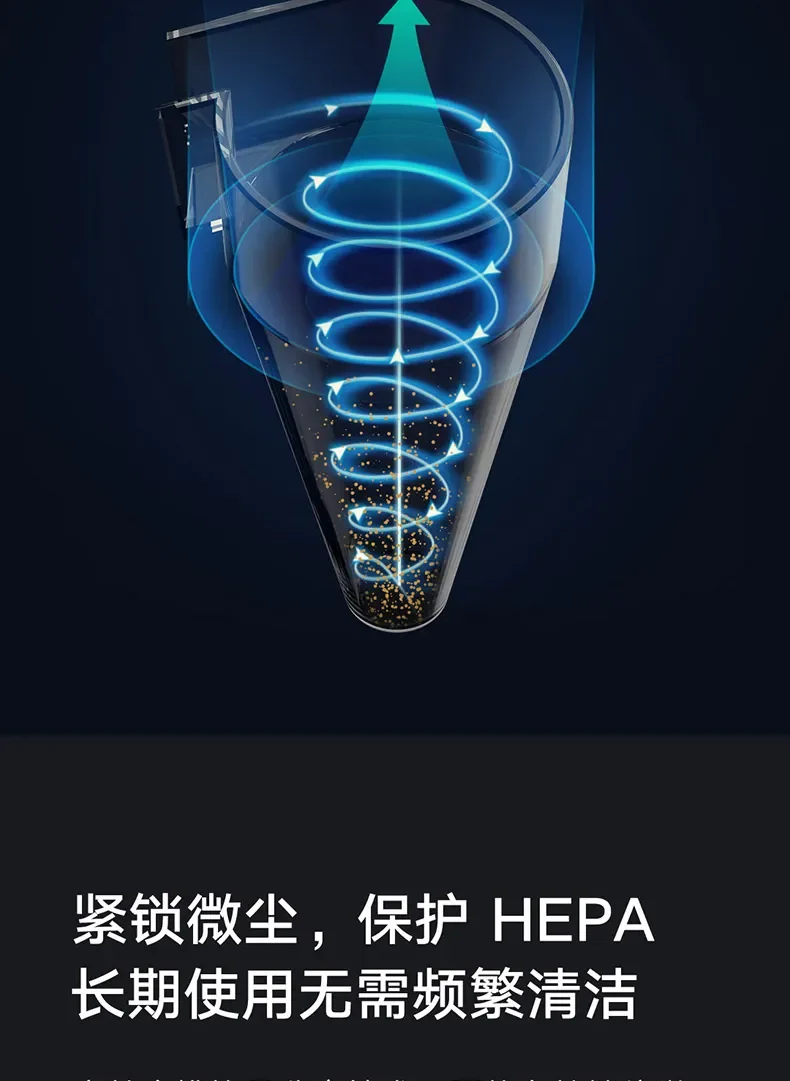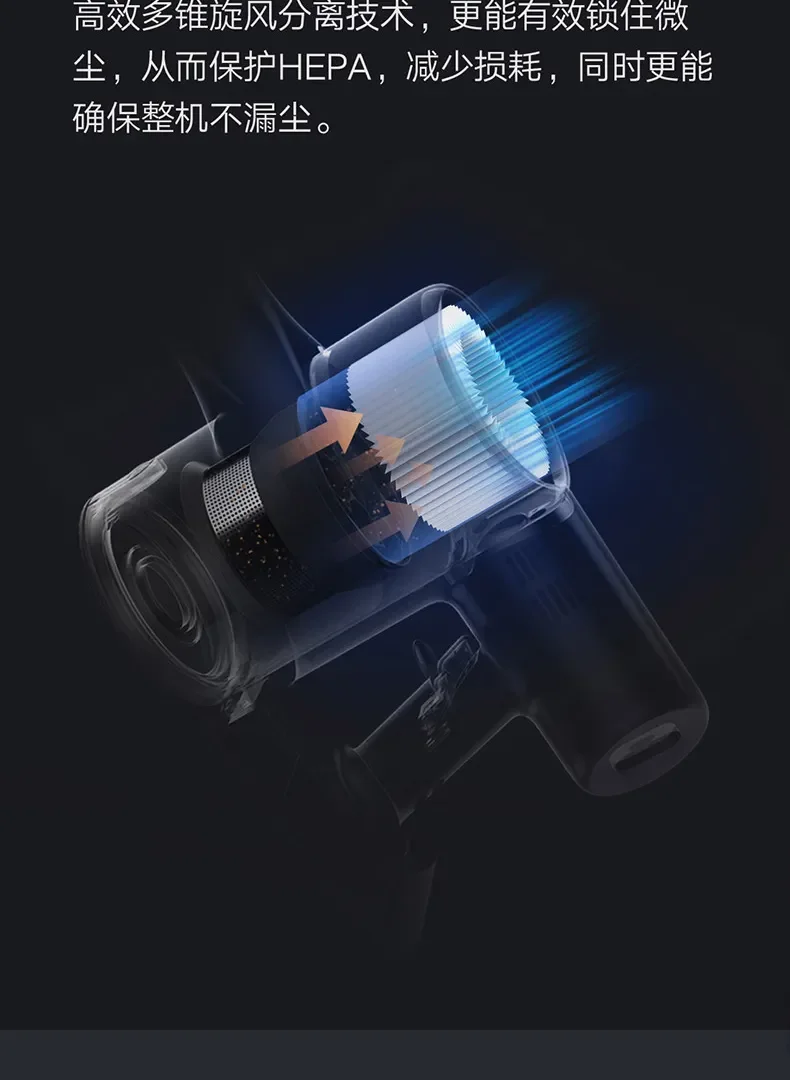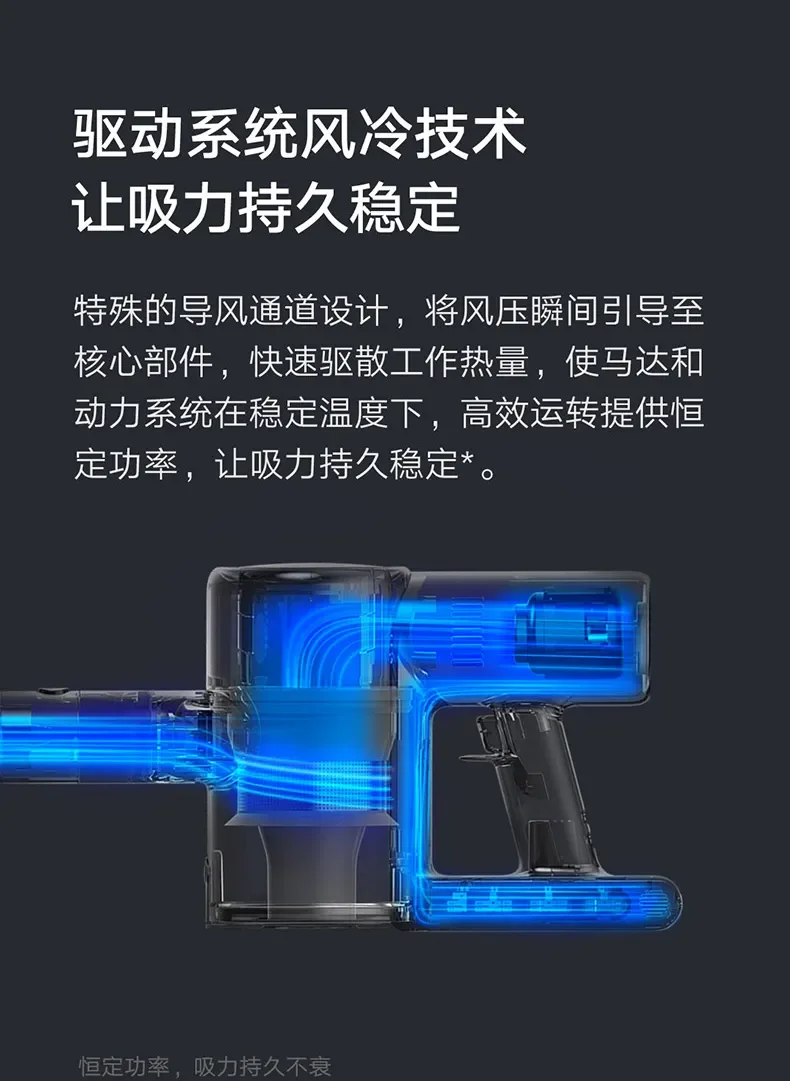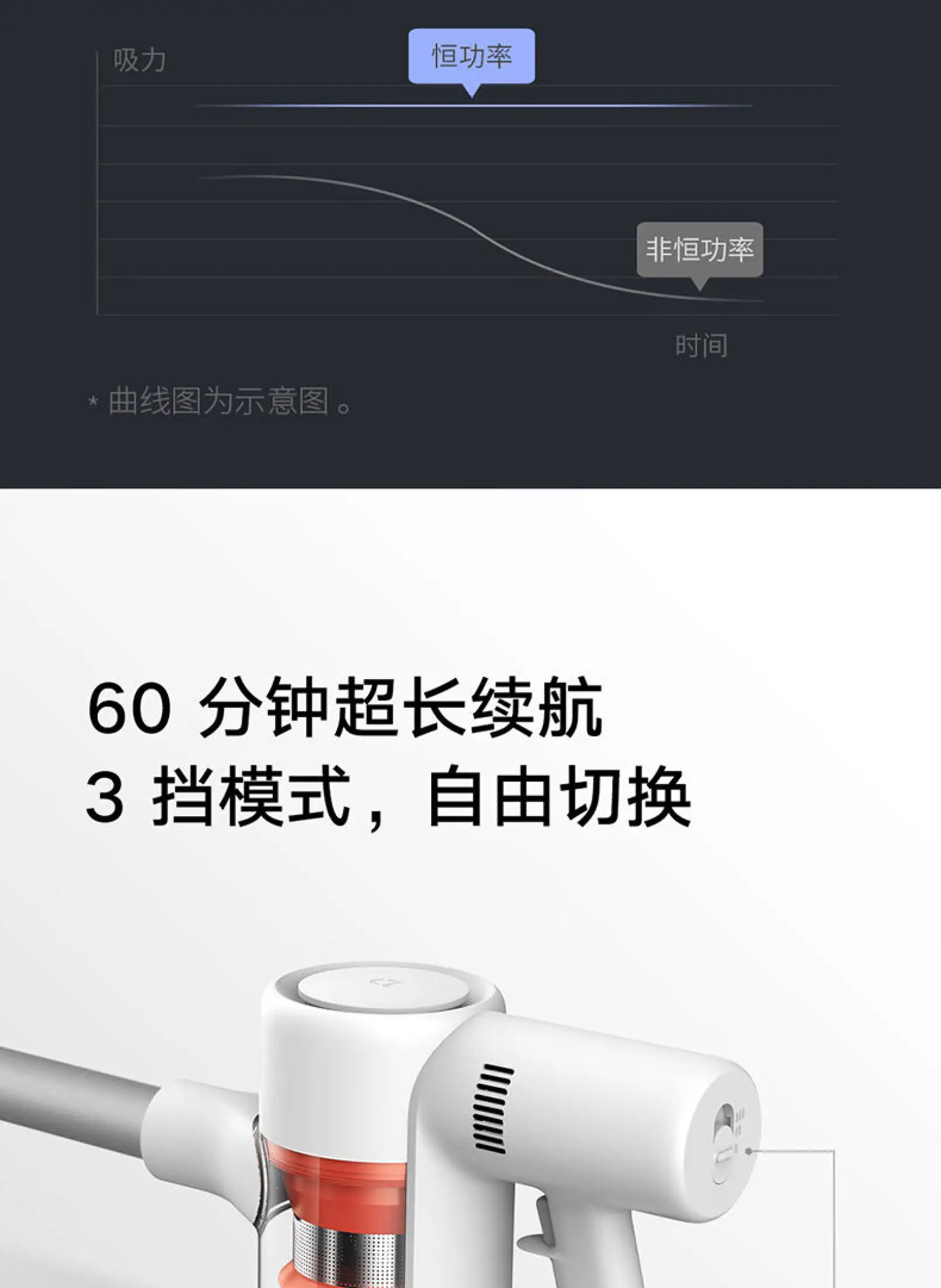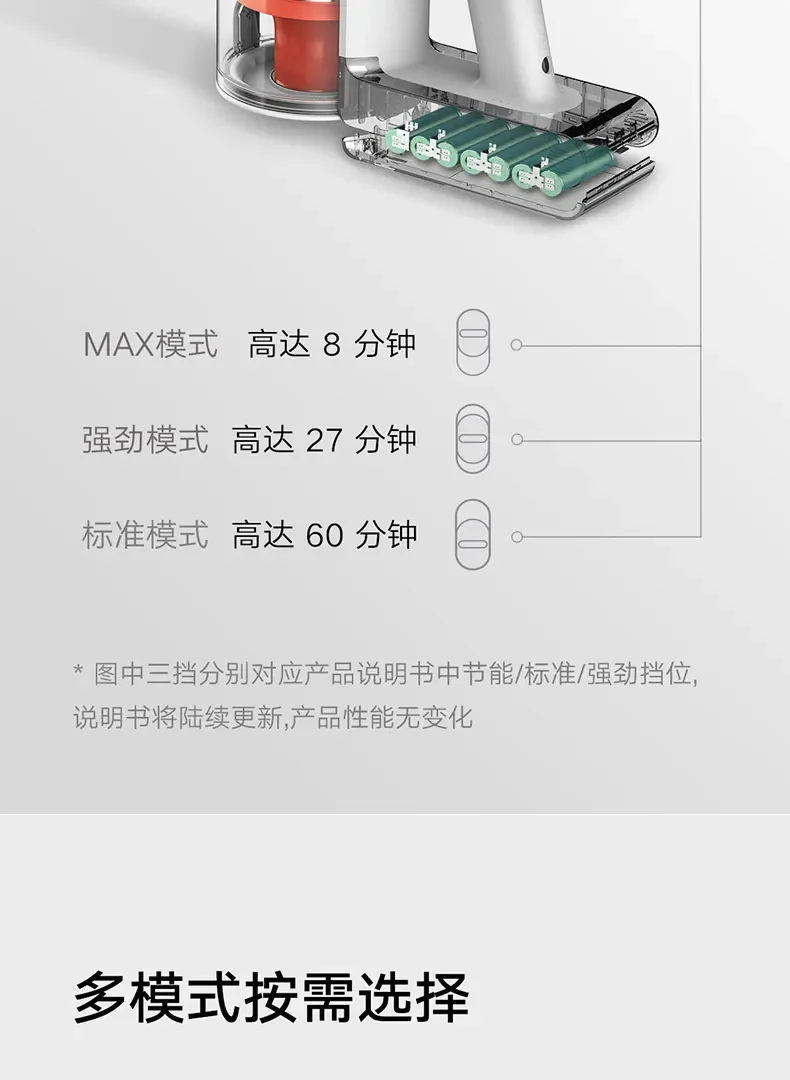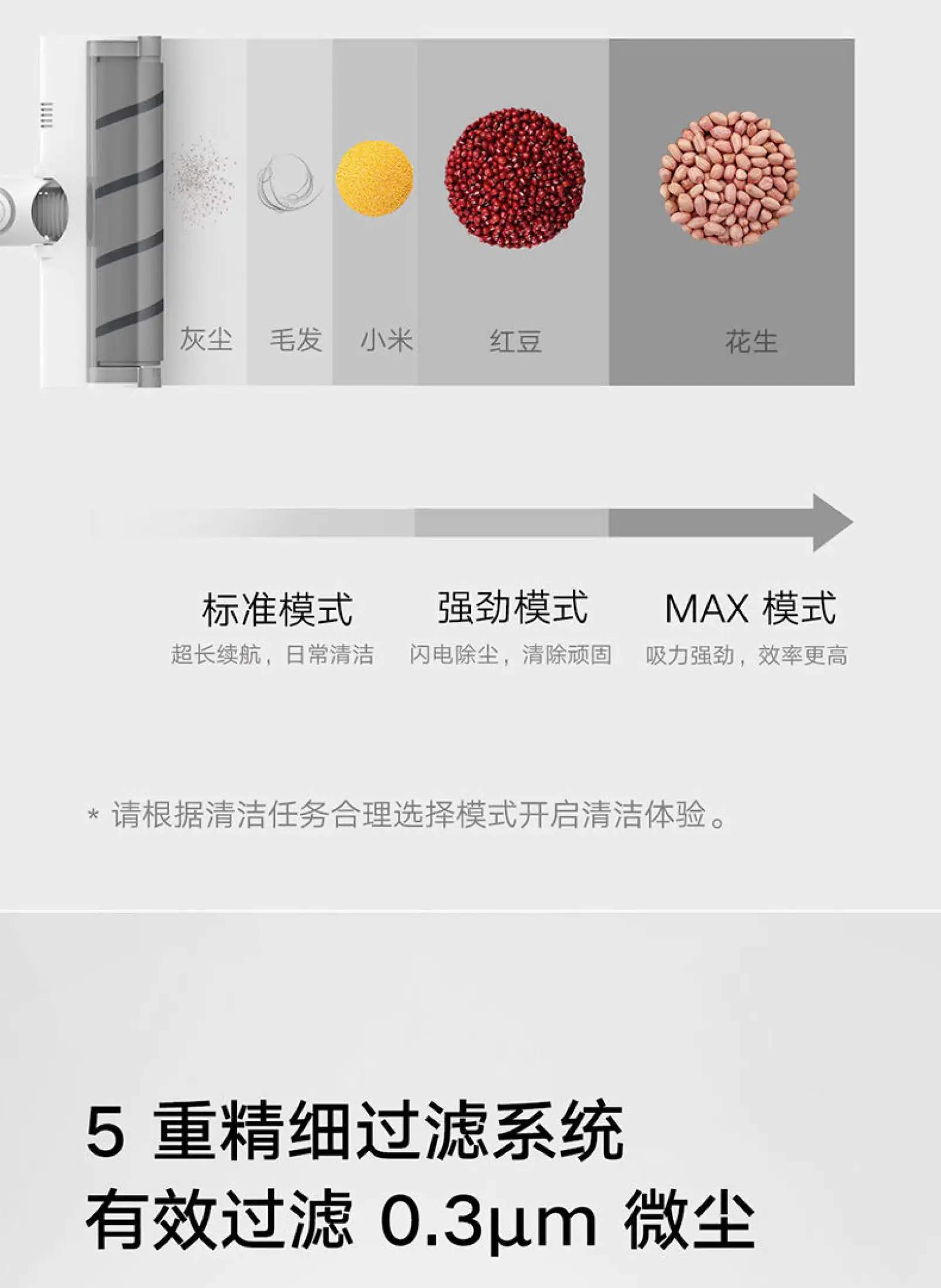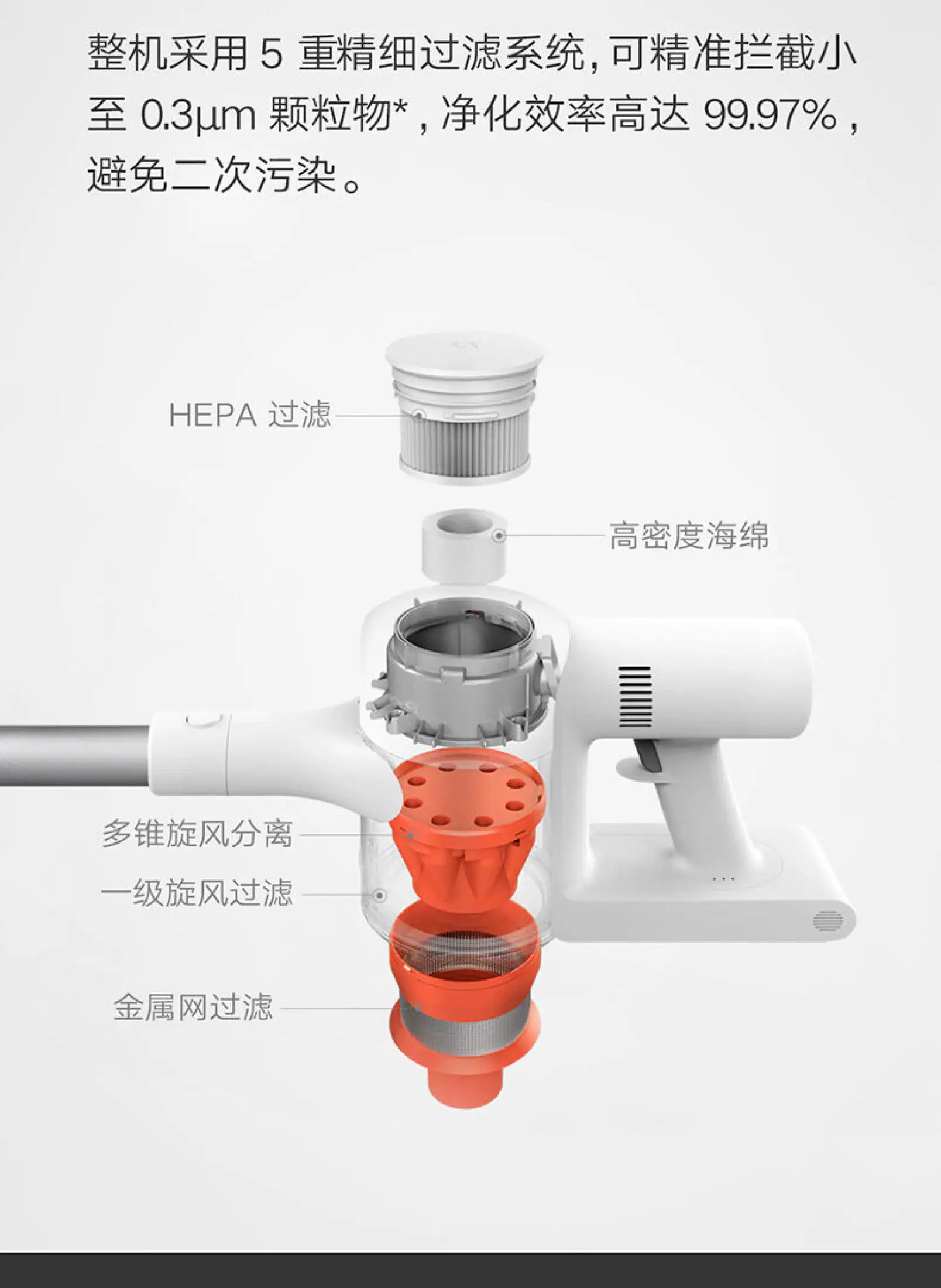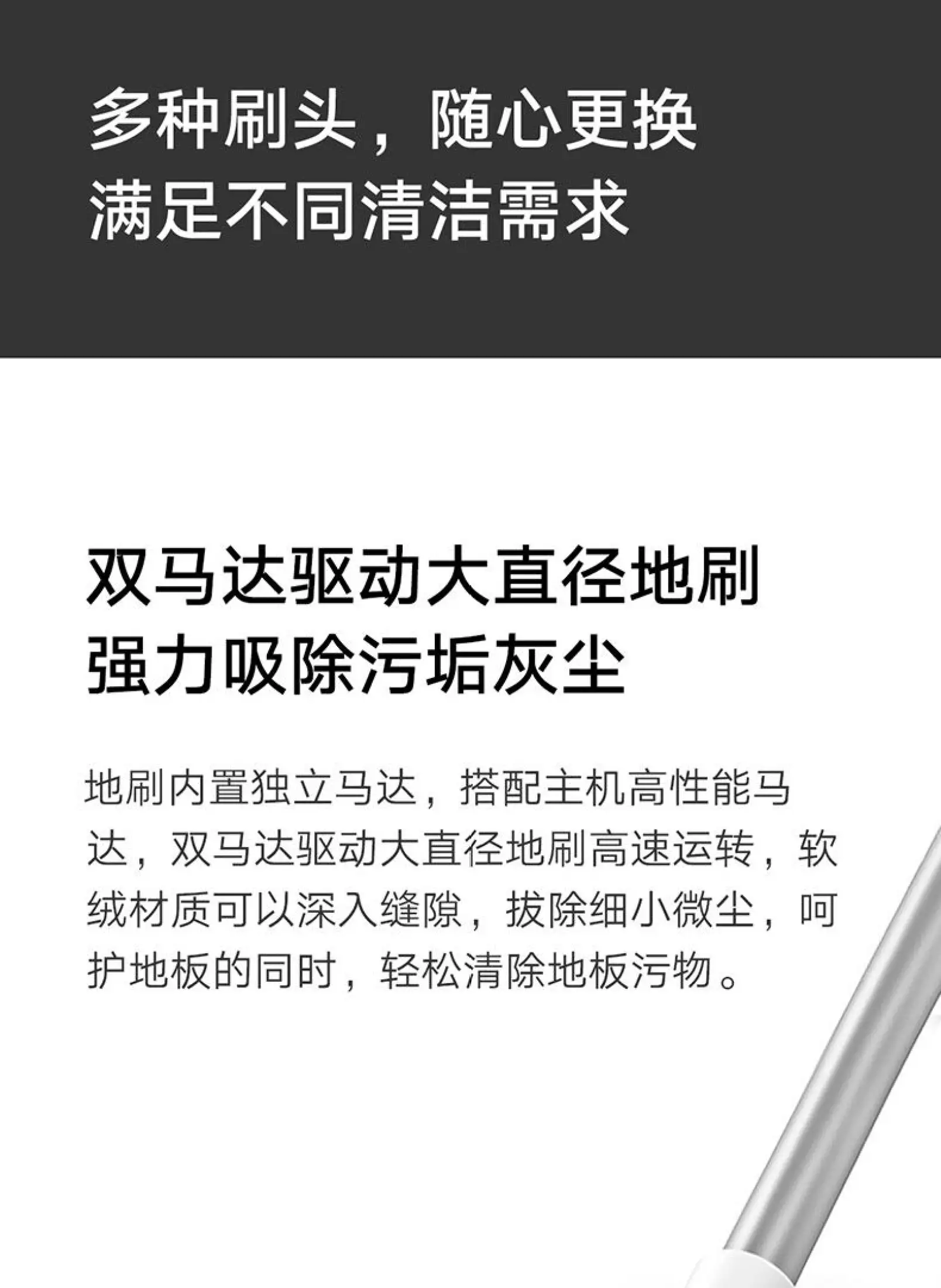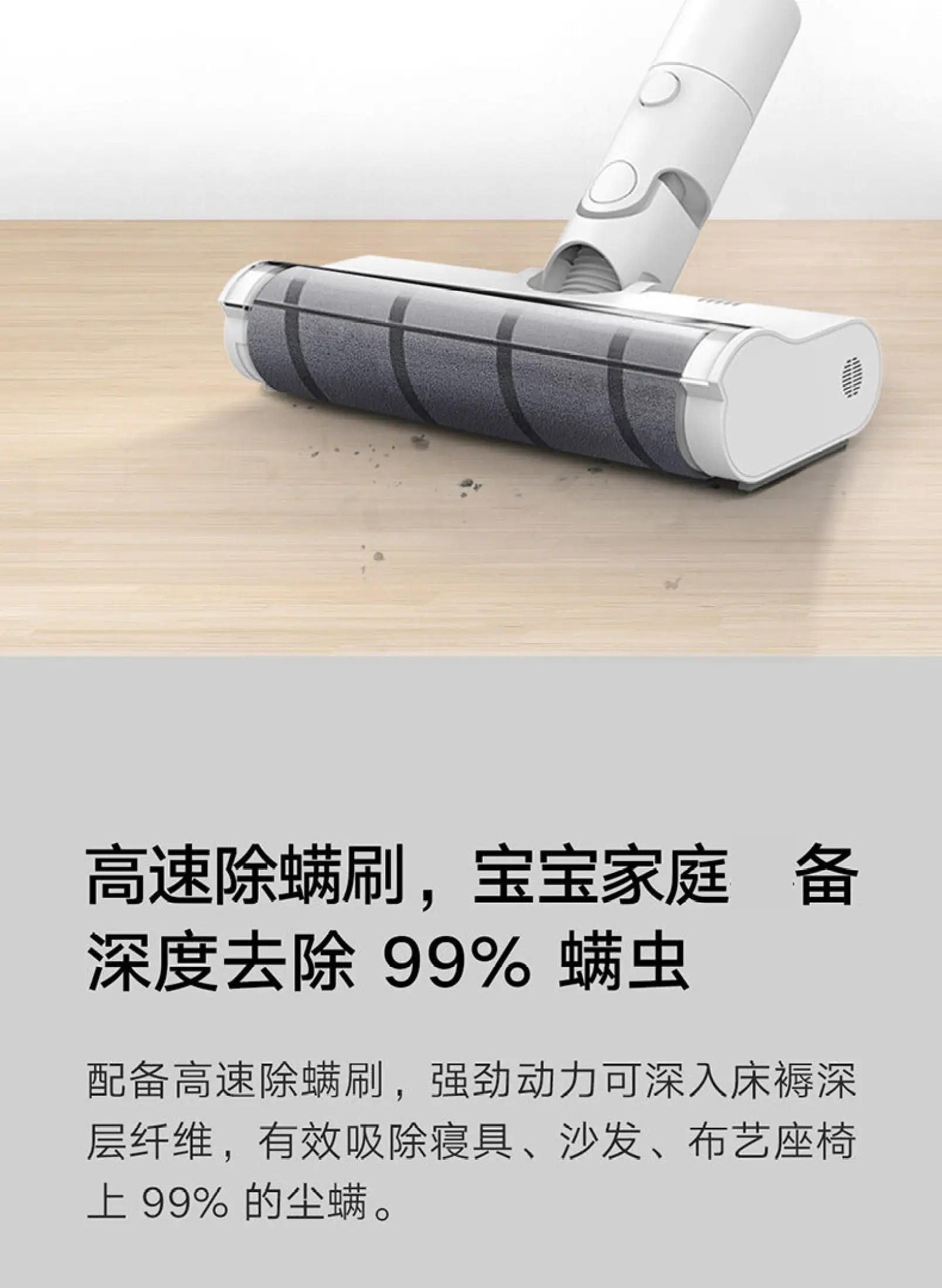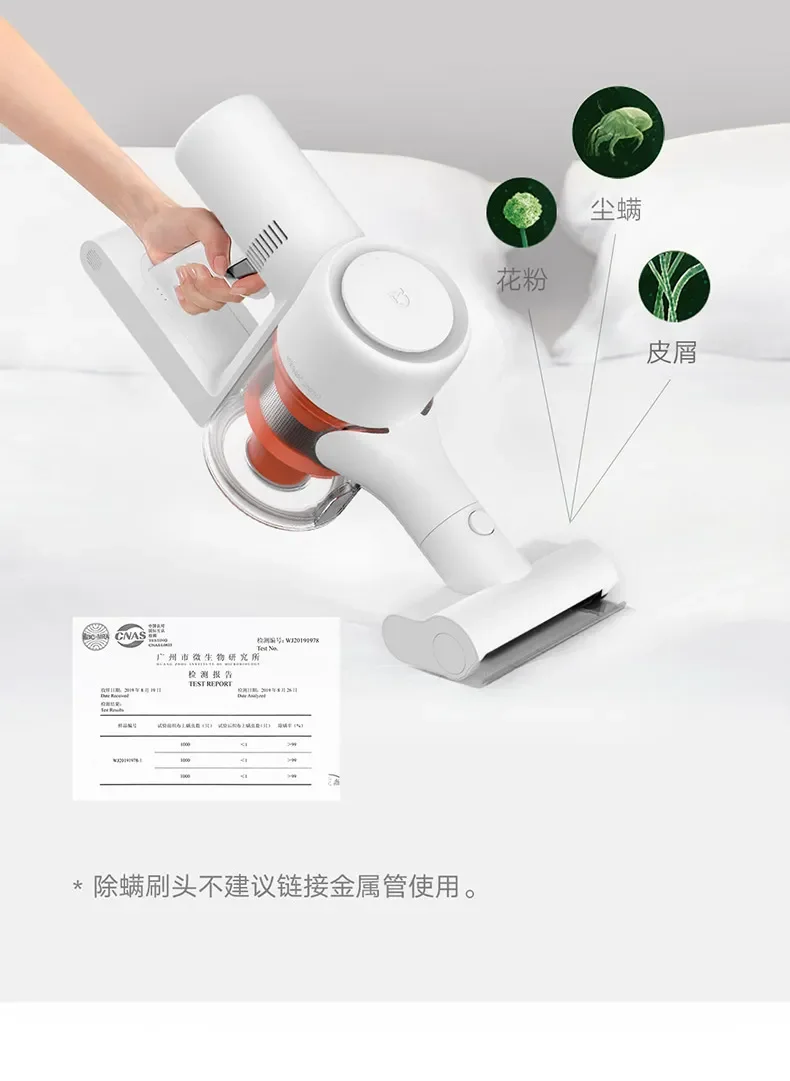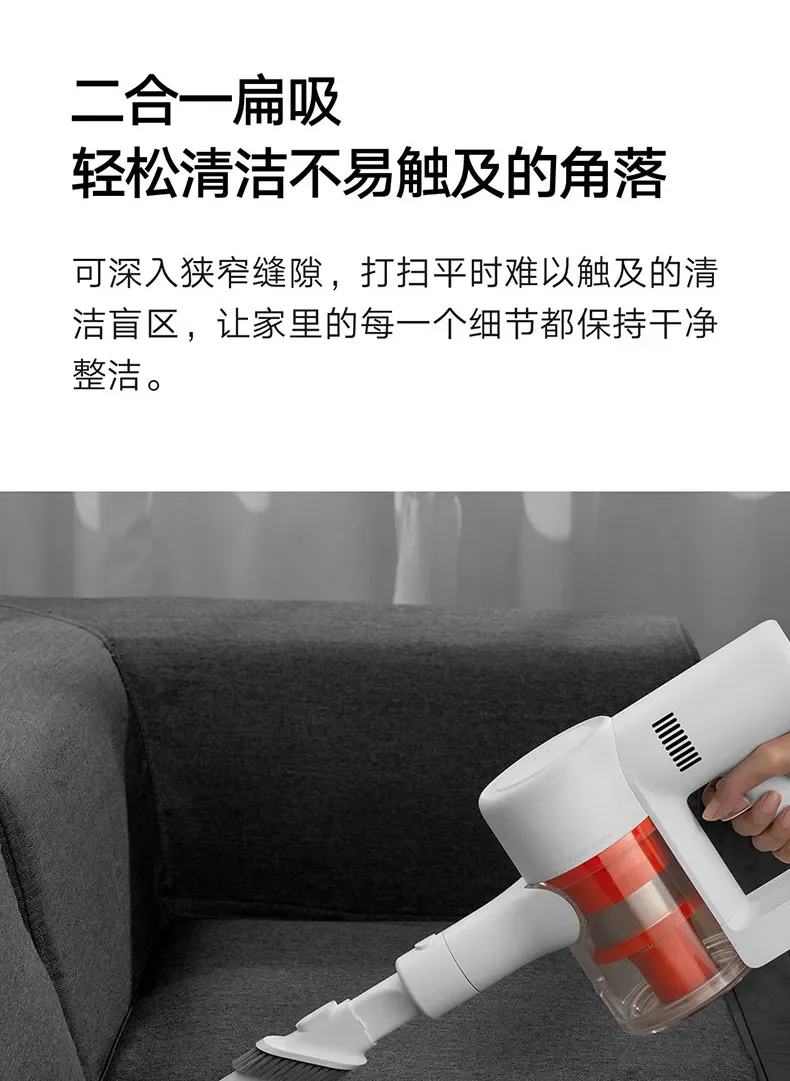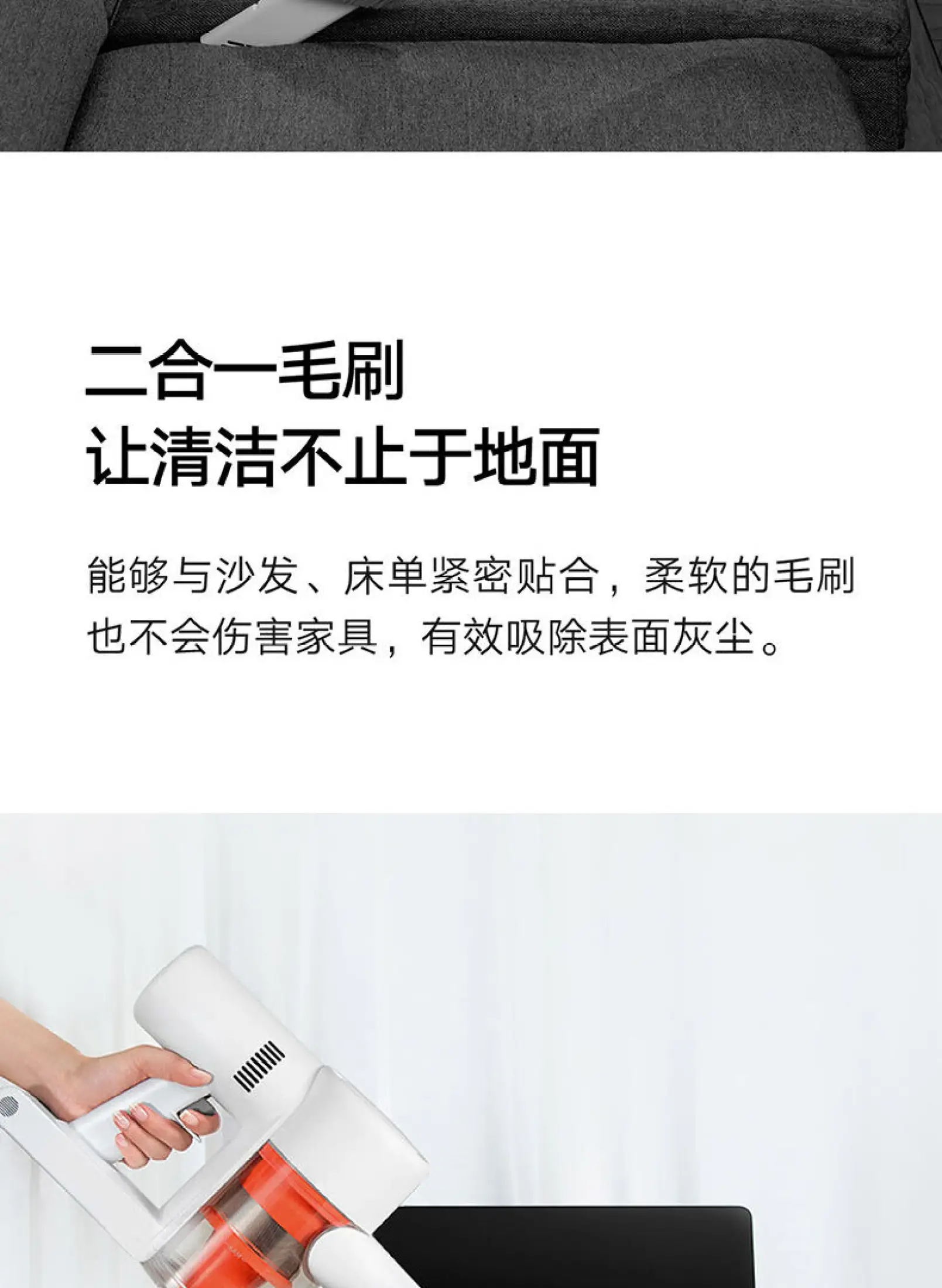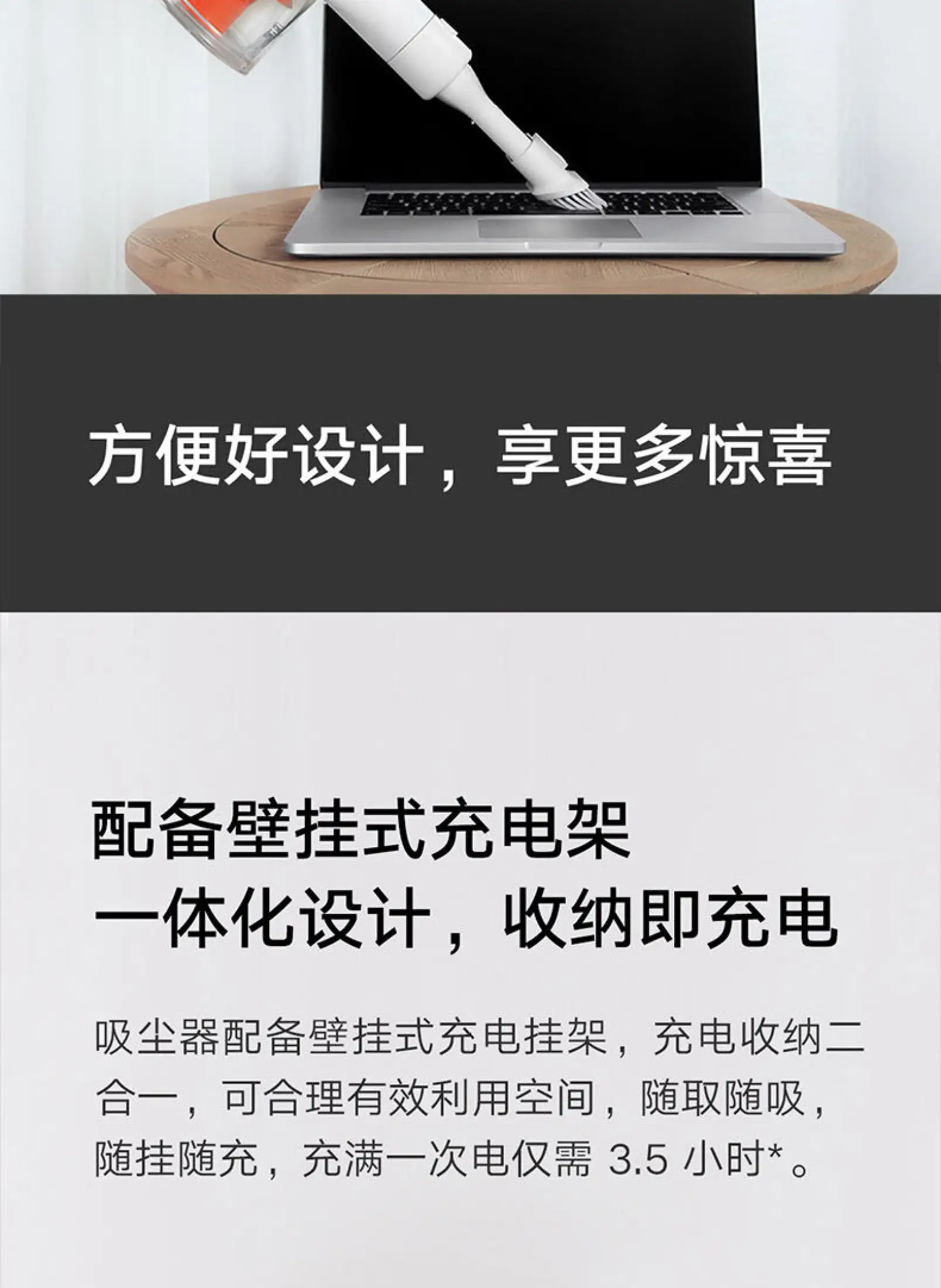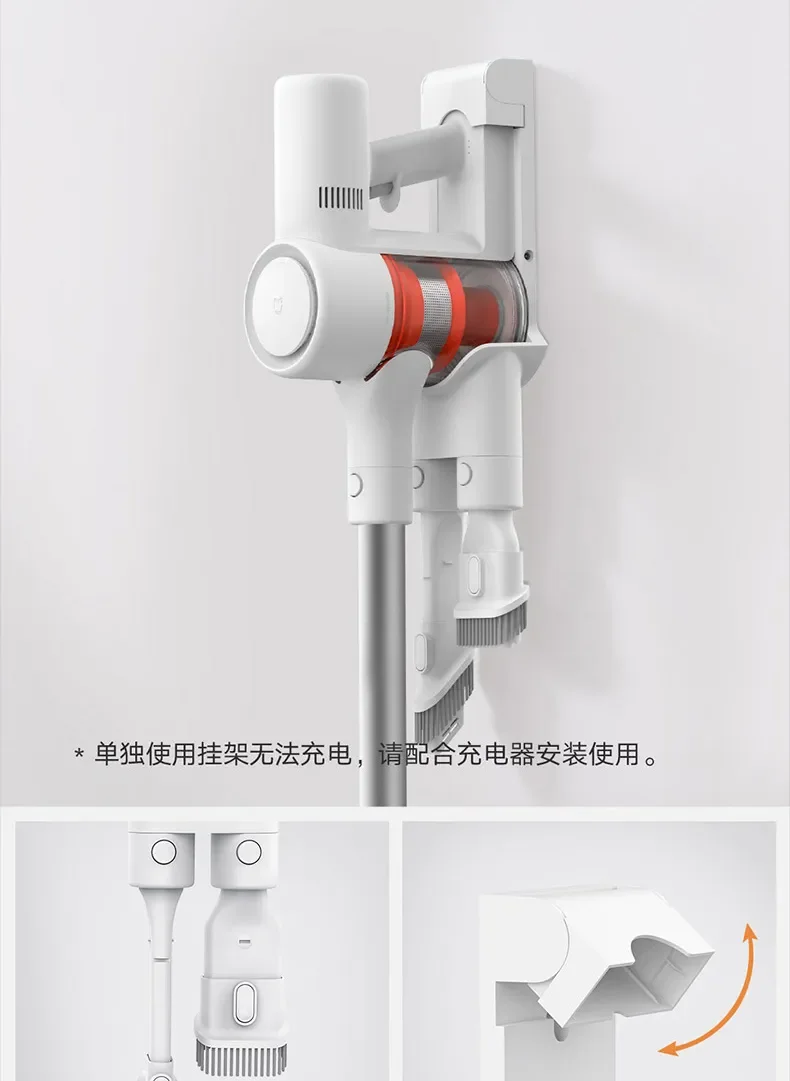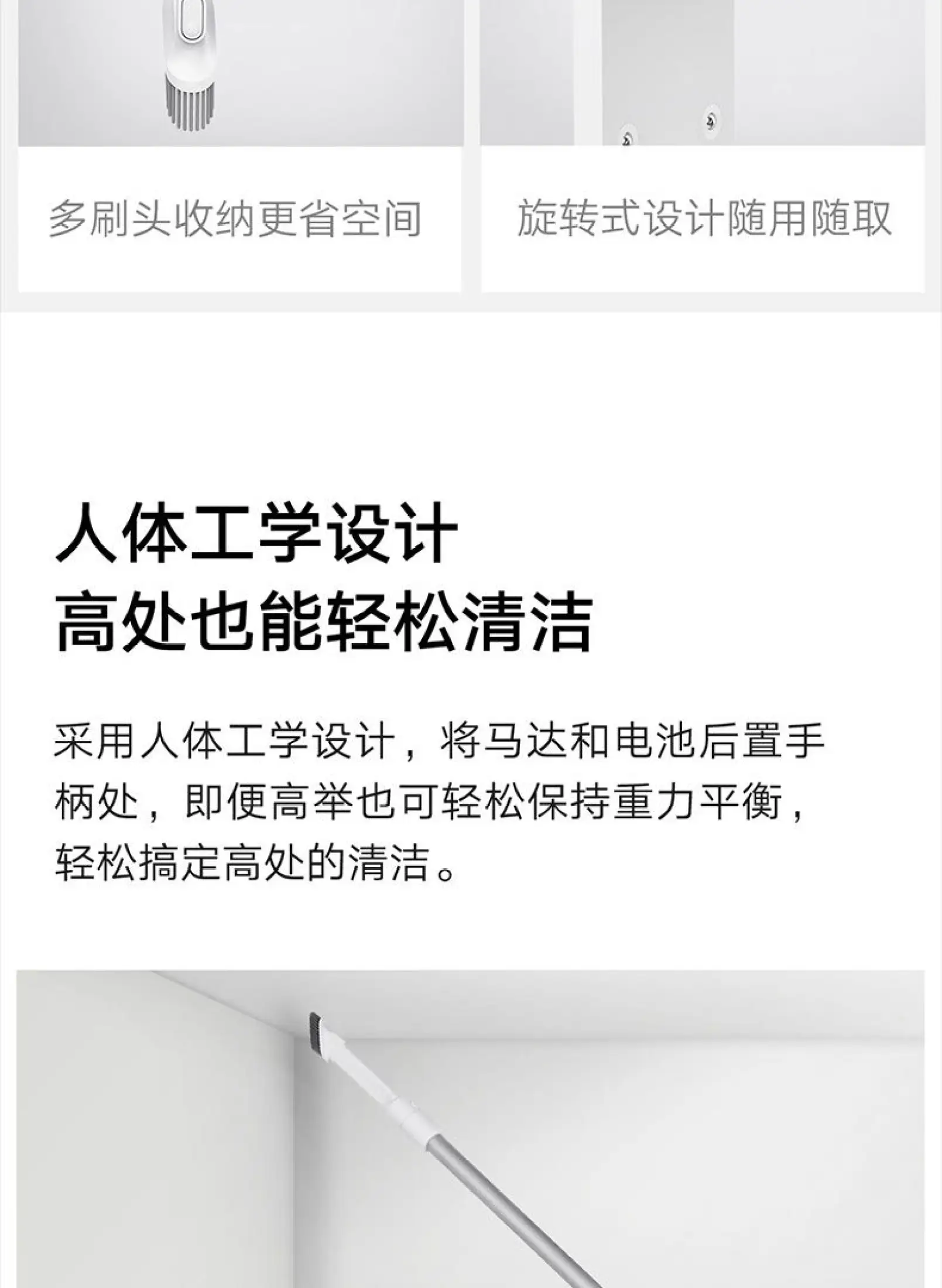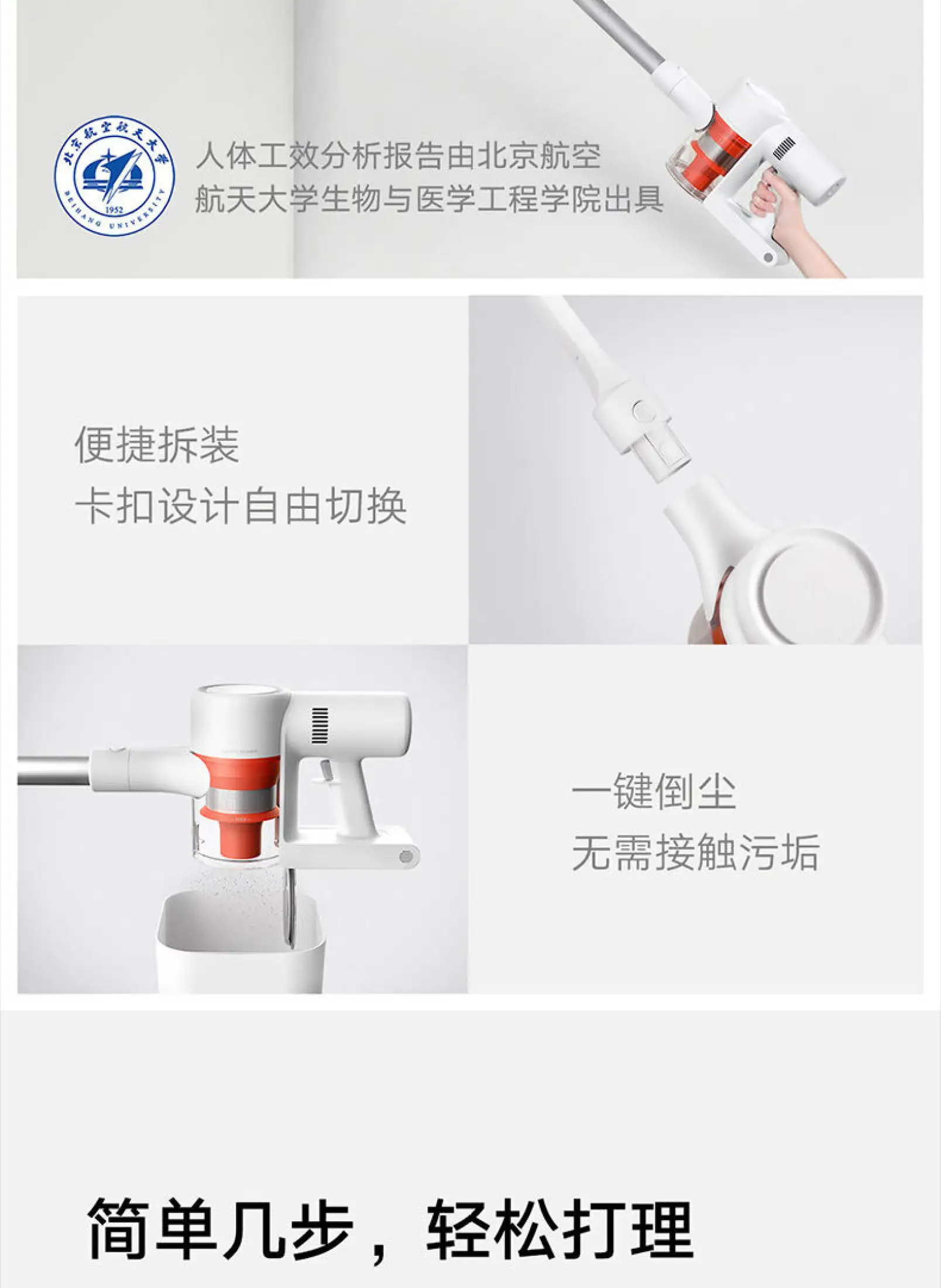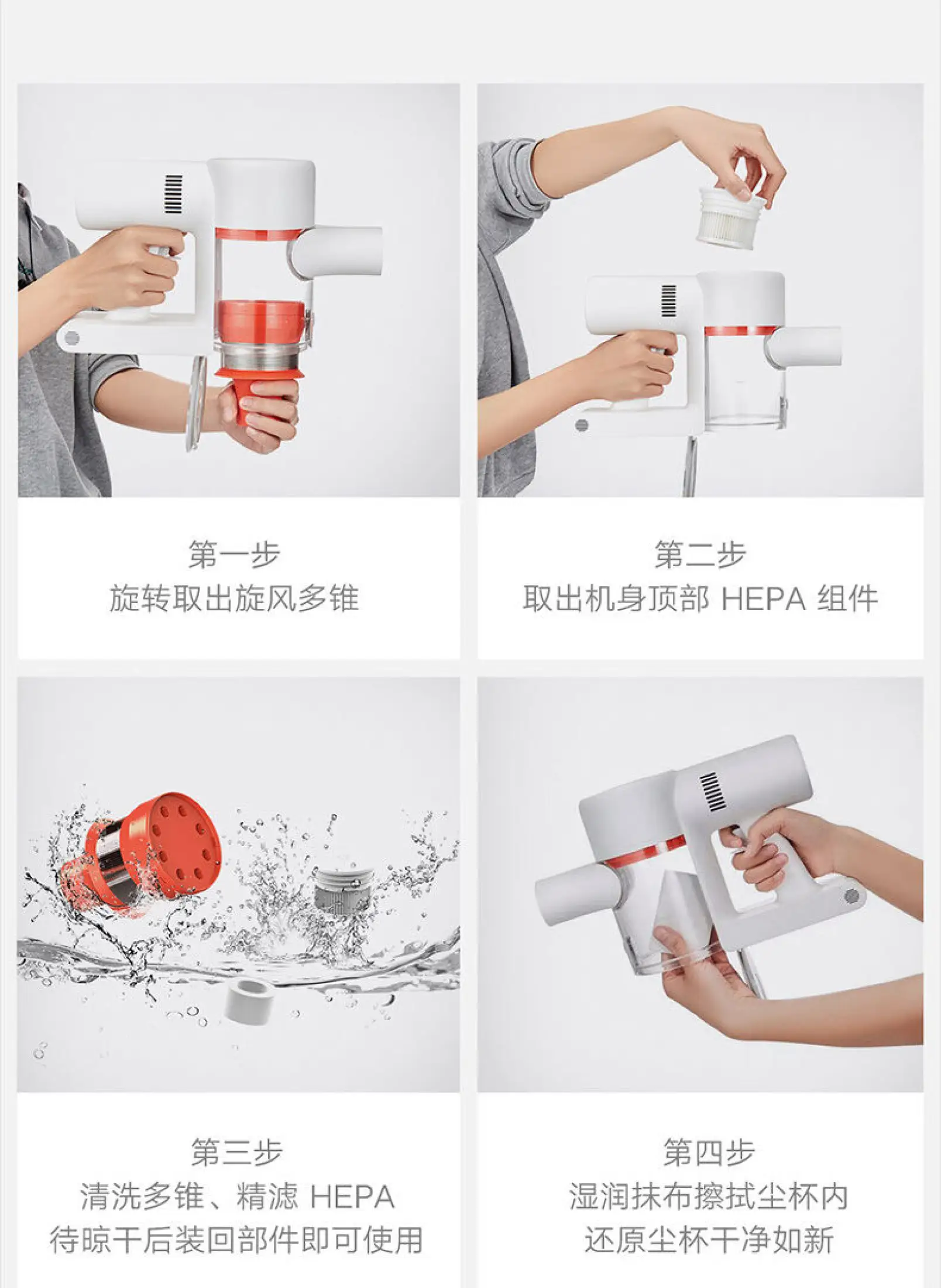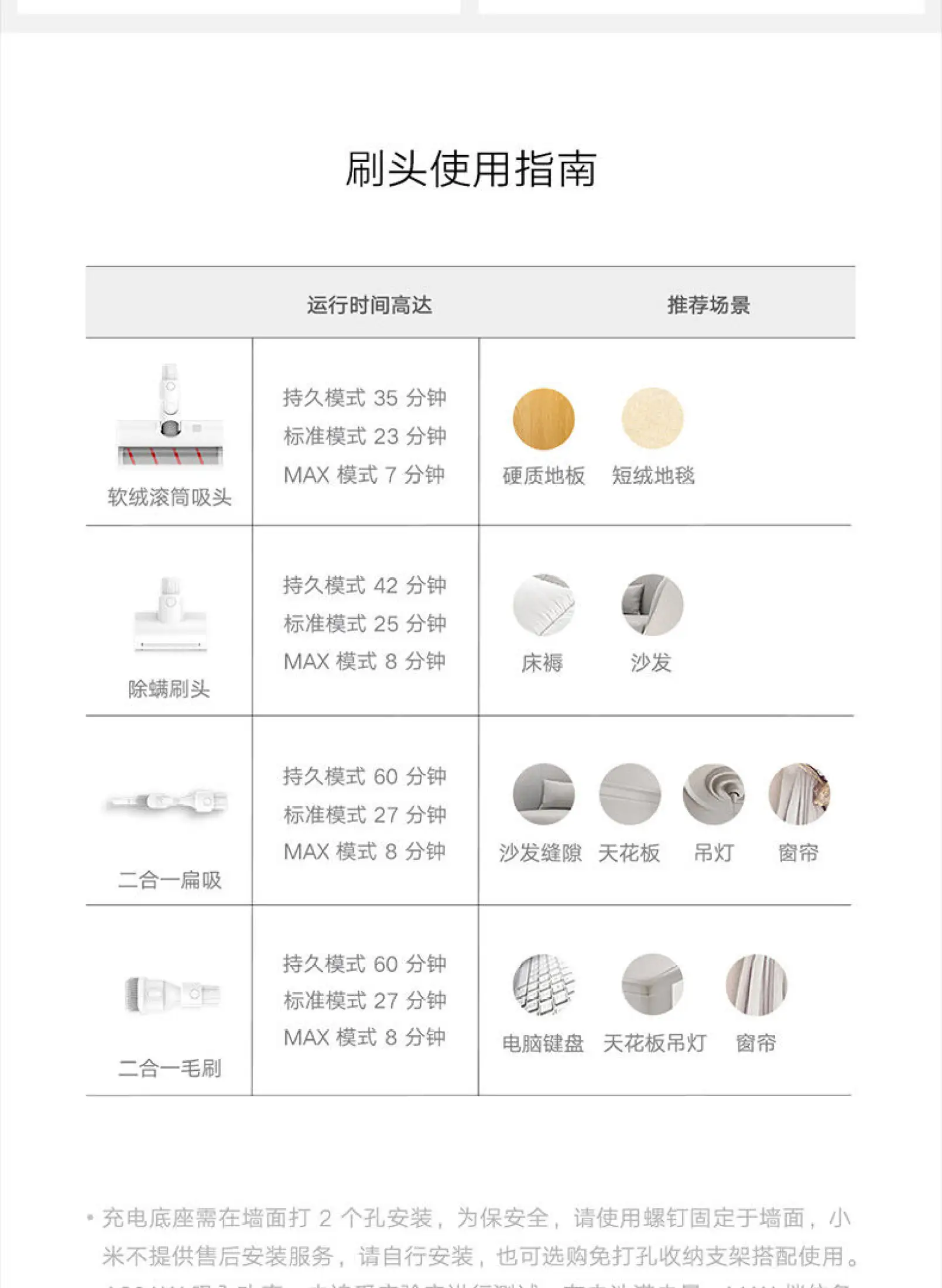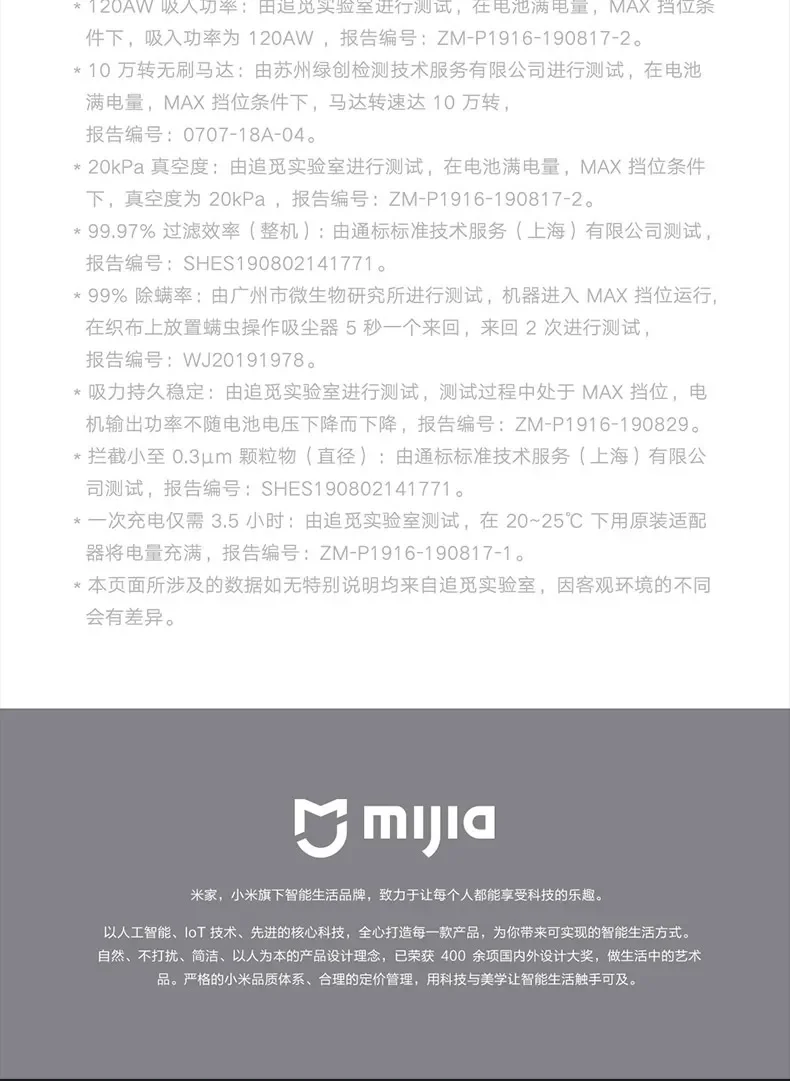 Reviews (0)
view all
back
What's in the box
1 x Xiaomi smart Handheld Vacuum
1 x Extension rod
1 x Soft rolling brush
1 x Mite removal brush
1 x Two-in-one brush
1 x Two-in-one flat suction
1 x Two-in-one stand (charging + storage)
1 x Power Adapter
1 x User Manual
6months Warranty